Asparagus and Scallions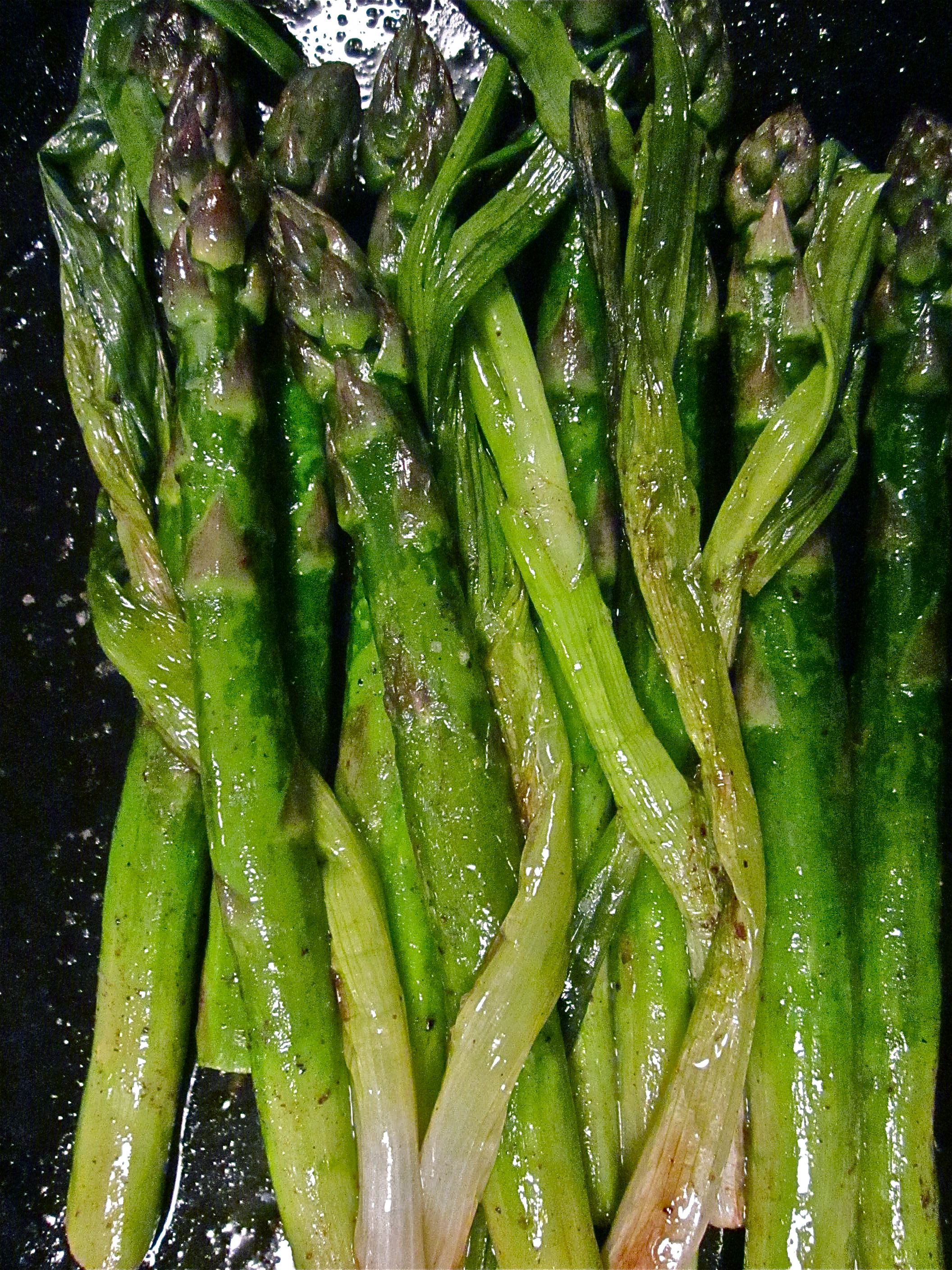 This week, with luck, we'll have asparagus at the market. There tend to be two camps when it comes to prepping asparagus. Snappers and Peelers. Bend asparagus and it will break where it's tender, say the Snappers. Peel the stems and you'll gain an extra inch or more of delicious asparagus, say the Peelers. We're going with the Peelers in this recipe. Either way – but especially if you're a Snapper — use asparagus ends or peels in vegetable stocks and/or consign them to the compost pile after cooking.
Asparagus and Scallions
1lb asparagus
bunch of scallions, or young spring onions, trimmed
2 Tbs butter
salt and pepper
lemon zest and squeeze of juice
Rinse, shave and trim asparagus (see below.)Prop asparagus upright in a tall jug or pot, or lay flat in a frying pan, and pour over boiling water. Scald for a minute or two depending on thickness; drain.
Meanwhile, in a large cast iron pan, slowly soften scallions in half the butter. Push scallions to one side, add remaining butter, and asparagus in one layer. Season with salt and sprinkle over a tablespoon of asparagus scalding water (or a spoonful of quick broth made with their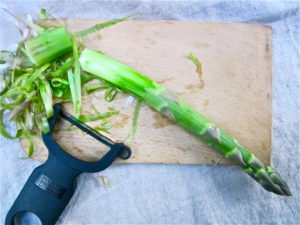 trimmings.) Roll around asparagus to coat in butter-water, raise heat a tad, and cook, adding sips of water or stock, if necessary, to keep things glistening, until the asparagus is done to your liking. (You can let it take on a bit of color towards the end.) Mix the wilted spring onions into the cooked asparagus, check seasoning, and plate in a nice tangled heap, with a squeeze of lemon juice and grating of zest.
To shave asparagus with a vegetable peeler: Lay stalk on a cutting board, and, starting about one-third way up each stalk, stroke down with a vegetable peeler towards the cut end. Keep shaving, rotating stalk, until outer skin is stripped from the bottom third of the stalk, exposing the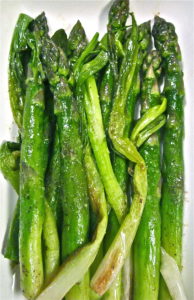 paler green beneath. To trim: working from bottom up, feel along the stem with a sharp knife until you reach the point where the knife cuts through stem cleanly and easily. On the bunch used for this recipe, compared to snapping, this method saved an inch or more of asparagus per stem.