Bluefish, Corn, Chipotle Sandwich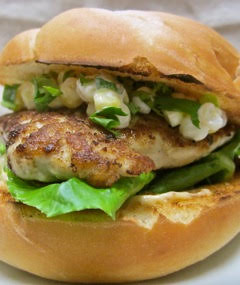 Spanking fresh bluefish is often available from the Machaca. For this week's sandwich, we're giving the fish a hint of smoke and pairing it with summer corn.
Corn salad, enough for 2 sandwiches:
1 ear of  fresh corn
squeeze of lime juice
1Tbs. sliced scallion greens
1 Tbs. mayonnaise, home-made or Hellmann's
1 Tbs. sliced cilantro leaves
For each sandwich:
1 bun or roll, nothing too chewy
1 piece of skinless bluefish, cut to fit bun
Nobska Farm's chipotle seasoning
Pinch salt
½ tsp. soft butter, few drops of neutral oil
1 tsp. or so mayo, mixed with a scant 1/4tsp. chipotle seasoning
Small lettuce leaves, washed, well-dried
Corn salad
Strip outer leaves from corn, leaving on a layer of innermost leaves. Cook in boiling water. Three minutes should do it for fresh corn. Cool, remove remaining leaves; silk will slip off easily with leaves. Slice kernels from cob. Dry kernels by tossing briefly in a dry pan over low heat. Cool corn, put in a bowl with a squeeze of lime and sliced scallion greens, binding everything with mayonnaise. Set corn aside with cilantro leaves piled on top.
Heat a cast iron pan. (Bear in mind handle becomes hot, too.) Split each bun or roll, pull out some of the crumb to cradle filling; quickly toast the bun's cut surfaces on the heated pan. Put fish dark-side down between paper towels, and pat dry, insisting a bit on the thicker parts of fish to flatten the piece(s.) Sprinkle top of fish with chipotle seasoning and an extra pinch of salt, and lightly brush or smear with half the softened butter. Using a wadded up paper towel – held with tongs or gloves for extra precaution – rub a few drops of oil over the hot pan, just to polish the surface. Add fish seasoned-side down. Cook on high until edges of fish start to whiten. Brush unseasoned side of fish with butter and flip to cook that side too, reducing heat if piece is thick so fish cooks through.
Meanwhile spread chipotle-seasoned mayonnaise on bottom half of bun and line with lettuce leaves. Spoon over some corn. Place warm fish on top, add another spoonful of corn and cilantro, and enclose with top half of bun.
Note on fish & bun:
For this sandwich, you want skinless filets. Slice each filet into two along the lateral line and trim away most of the dark meat. Cut fish in sections to fit your bun of choice, say a brioche bun, a potato roll or Kaiser– you want your bun pillowy rather than chewy or crusty. You could substitute another fish (or even that other white meat, chicken) but why would you, when you can get prime local bluefish, straight from the dock?