Caramelized Onion Dip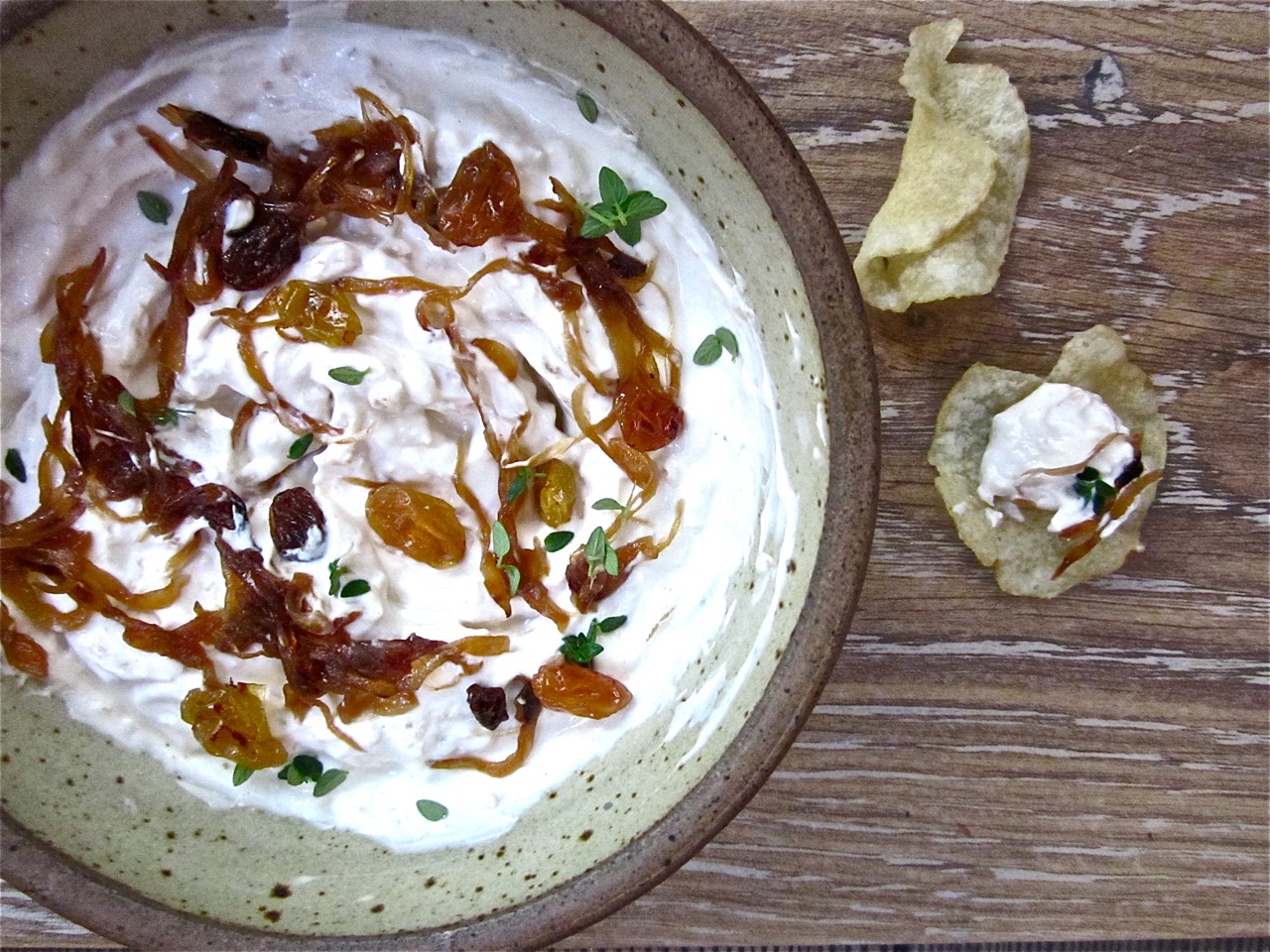 Peak season means farmers often have a lot of something at once. If you need inspiration for what to do with zucchini, for instance, Susie Middleton suggests one of her all-time most popular recipes in Fine Cooking Magazine:  http://www.finecooking.com/recipes/zucchini_summer_squash_gratin.aspx
Right now Freshfield Farm has lots of white onions. If life hands you onions, caramelize them! Two big onions will concentrate to a rich, sweet-savory little heap, great on burgers, grilled meat, toasted cheese sandwiches. They also make a nice dip. Waste not your onions!
Caramelized Onion Dip
2 large white onions (about 1lb.) peeled and sliced fine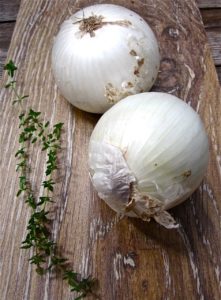 1 Tbs. neutral oil, e.g grapeseed
2 sprigs fresh thyme
2 tsp. maple syrup
1 tsp. apple cider vinegar
1 tsp. soy sauce
salt and pepper to taste
8oz (1 cup) sour cream
2 Tbs. heavy cream
handful of golden raisins
paprika or dash of Chipotle pepper seasoning
Slice onion into thin longitudinal strips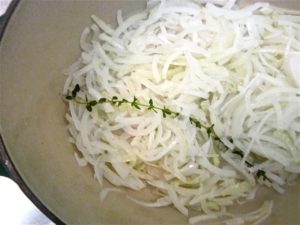 . Heat oil in large frying pan over medium heat. Add onion, stirring to coat all the strips in oil. Add 1 sprig of thyme and cook, stirring occasionally, until onion is reduced by about half and looks soft, limp and lightly colored, about 20 minutes. Add maple syrup. Cook, stirring almost constantly, until the onions are a nice rich amber color. Reduce heat, stir in vinegar, soy sauce, then 2 tablespoons or so of water. Cook a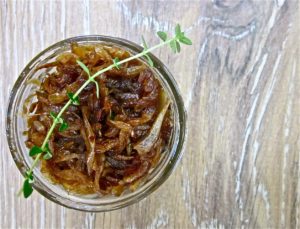 few minutes more until onions come together in a glossy, slightly jammy mass. Remove thyme sprig. Check seasoning and add salt to taste . Cool and pot into a small jar.
For 8 oz (1 cup) of dip: take 2 tablespoons of the caramelized onions, put them on a cutting board, and chop with a sharp k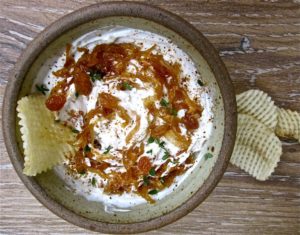 nife, over and over, until reduced to paste. (Keep chopping, folding onion mass over, chopping again.) In a bowl, gradually stir together onion, sour cream and cream; season with salt and pepper. Scatter over some onion shreds straight from the jar. Strip leaves from second thyme sprig. Scatter over thyme, golden raisins, a dash of paprika, if you like. Serve with sturdy chips.
(Keep the remaining caramelized onions in a covered jar in the fridge and use within the next few days for burgers, sandwiches, grilled meat, or to top off crostini with melted Gruyére cheese.)