Celery leaf salt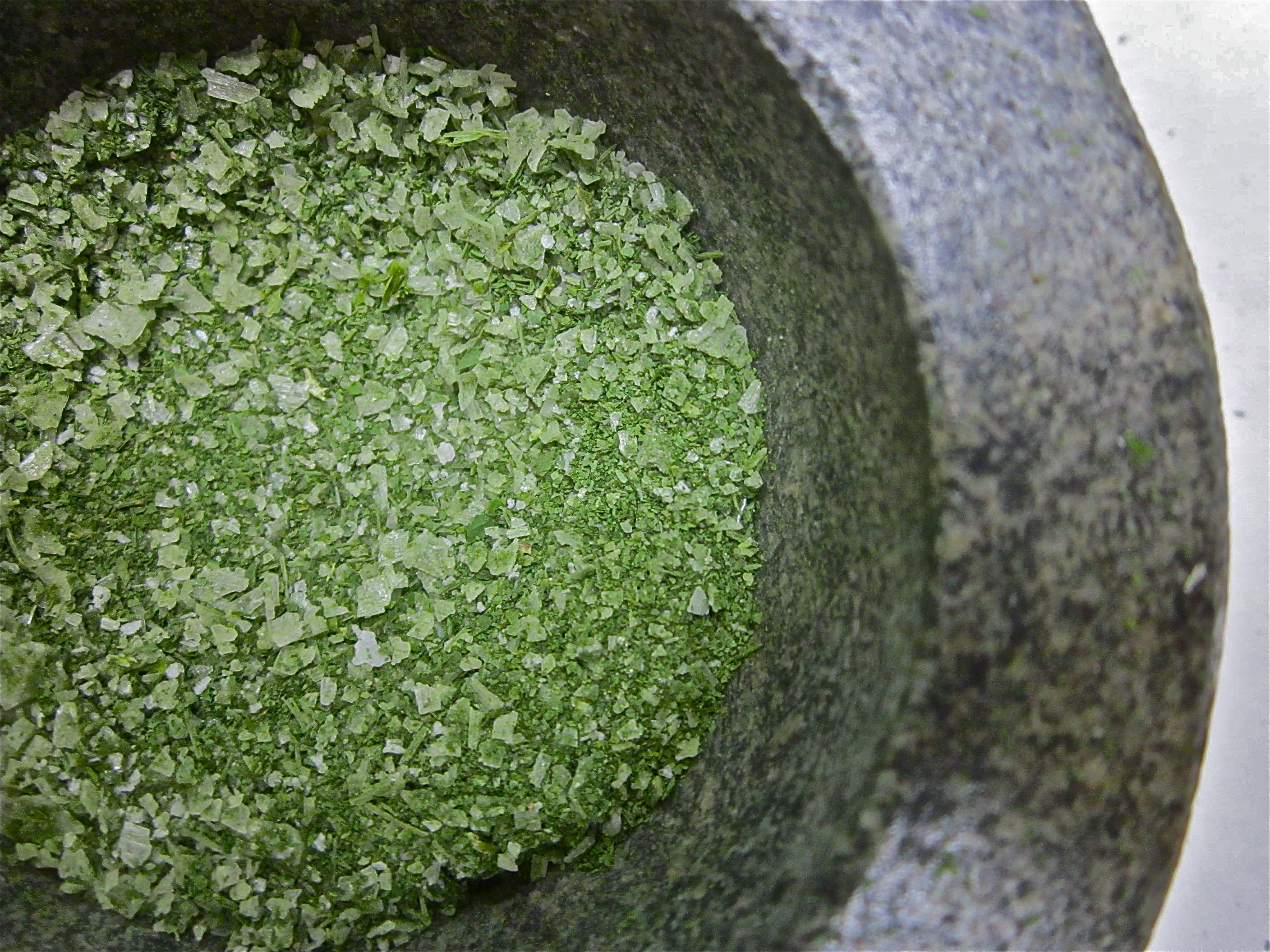 Years ago when celery was first introduced at our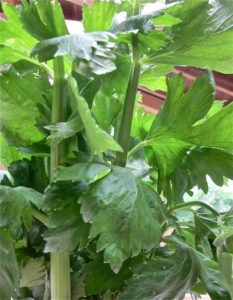 market by Moonlight Alpaca Farm, someone (a silver-tongued siren, perhaps?) named it Pedestrian Celery. It was anything but. Many people trying it for the first time are astonished at the flavor it packs. Moonlight's celery also comes topped with a bush of leaves. You can use the leaves to flavor soups, of course, mince and use them as a herb, or add some to a parsley pesto or salsa verde. You can also make this pretty green salt, our "waste-not" recipe of the week.
Celery leaf salt
2 cups — – 2 big handfuls — celery leaves
coarse sea salt
Strip leaves from celery stalks.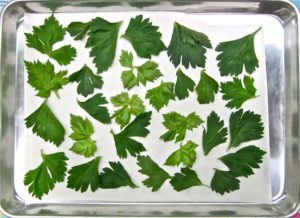 Rinse leaves, drain well, and blot dry. You want them very dry so they won't steam in the oven.
Preheat oven on lowsetting, no more than 300 degrees F.
Spread leaves on parchment-lined sheet pan or baking tray. Use two trays if necessary to avoid overlapping or crowding. Slide trays into oven and prop oven door open with a wooden spoon handle to keep air circulating. Oven-dry for about 10 minutes, or until celery leaves are papery, but still green – they should crumble easily.
One way to crush small amounts like this: gather up celery leaves in a
sheet of cling film, twist film to enclose, and scrunch with your hands. You can also use a mortar and pestle, of course. (Any bits of stem that don't crumble can be popped back into the switched-off oven as it cools until they're friable.)
Measure crushed leaves, then measure an equal amount of coarse salt, or just eyeball it.
Add a
small amount of salt to the leaves and crush together to further pulverize leaves.
Mix with the rest of the salt and store in a sealed jar.
Use in soups or sprinkle your green celery salt on eggs, on corn-on- the cob or corn chowder, on steamed, buttered new potatoes, or potato salad.
Makes about one-eighth of a cup, but little green salt goes a long long way.