Egg Salad Sandwich with Pea Greens and Radish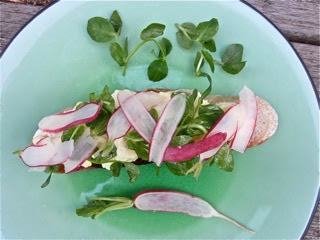 Per Sandwich:
1 egg
salt, black pepper
1 Tbs. Hellman's mayonnaise
¼ tsp. lemon juice
¼ cup pea greens, washed and dried
olive oil, squeeze lemon juice
1 radish, well washed, with a little of its tail and greens left on
Lower egg into a pan of boiling salted water, let water come back to a full boil, then dial back heat a tad to keep water just under boiling. Cook egg 8-10 minutes, depending on size. Drop egg in a bowl of ice-cold water. Seconds later, or as soon as egg is cool enough to handle in water, crack the shell, top and bottom. Leave egg in its icy bath for a few seconds, then with your hand gently tap and squeeze egg to crackle shell all over.  Cool in water but peel before egg is completely cold – with luck the shell will come off easily. Dice egg, not too small. Mix gently with mayonnaise, seasoned with lemon juice and black pepper. (Keep egg salad covered in fridge if not using at once.)
Spread egg salad on bread. Sprinkle pea greens with a drop of lemon juice and oil and a hint of salt. Scatter pea greens over the egg. Pinch radish by its green top, steadying your hand on the cutting board. Run the vegetable peeler from top to tail, shaving paper-thin slices and scatter radish shavings over sandwich. When you reach the middle of the radish, turn it over and shave slices off the other side. You'll be left with a final slice in the middle, a radish in silhouette, with its green top and tail, which you can use as a garnish. P.S. If your radish is fat, half a shaved radish might do you.