End-of- summer soup
Now that nights are cooler, it feels good to switch on the stove. Here's a late-summer soup, this week's Waste Not crisper-cleaner recipe. While you cut up the vegetables, simmer their trimmings to make a broth. While the soup cooks, make a quick pistou, a French kissing cousin of pesto. (If basil is in short supply, use a mixture of flat-leaf parsley and basil leaves.) When you're ready to serve, spoon a little pistou into each bowlful to scent the soup and make it wonderful, and pass around grated cheese. If you have pesto to use up, you could use that instead.
End-of- summer soup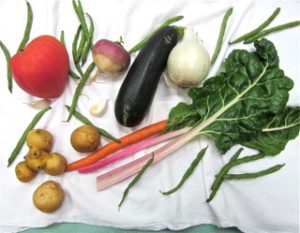 1 large yellow or white onion, peeled and diced, with onion ends saved
1 carrot, washed and peeled, with peel saved
3 smallish potatoes, scrubbed under running water and peeled with skins saved (about ½ pound)
1 small turnip or another potato, washed and peeled, with peel saved
3 Tbs. olive oil
bundle of parsley stems
salt and pepper
2 cloves garlic, minced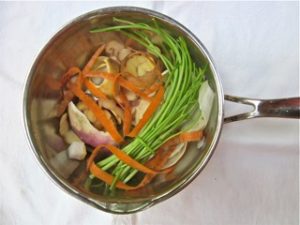 2 large chard stems, sliced into half-inch pieces, with leaves saved for later
1-2 large ripe tomatoes, skinned and chopped, juices saved (about 1 lb.)
1 small to medium zucchini, rinsed and diced
4 oz. green beans, rinsed, trimmed, chopped into half-inch pieces
Grated Gruyère, or mix of Gruyère and Parmesan
Peel and dice onion, saving the onion ends. Clean and peel carrots, potatoes, turnips, saving the peelings.
Heat 2 tsp. olive oil in a pan, add vegetable peel and onion trimmings, and stir to coat in oil. Add parsley stalks, 4 cups water or enough water to cover everything, and salt lightly. Bring to the boil and skim. Cover and gently simmer broth, while you prep and cook vegetables.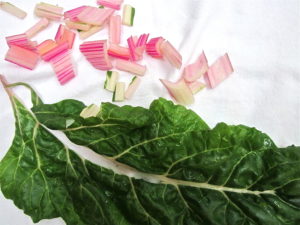 Warm remaining oil in a large pan, on low heat. Add diced onion and, as it softens, stir in minced garlic. Next add carrots, potatoes and turnip, all cut up into small (roughly half-inch) dice. Strip chard stems from the leaves, and slice stems into half-inch pieces. Stir just the stems into the panful of vegetables. Dice zucchini and stir it in, seasoning with salt and pepper. Let cook over low heat.
Dunk tomatoes in boiling water for a minute, drain and skin. Tear tomato to pieces in a bowl to catch all their juice. Stir tomato into vegetables and strain over their juices. Cover and cook, stirring now and then, for 15 minutes until root vegetables are mostly tender, then stir in the cut green beans.
Pour in the strained vegetable-peel broth, topping up with water, as needed, to make everything soupy. Bring to the boil, then simmer for another 15 minutes, adding chopped chard greens for the last few minutes, jus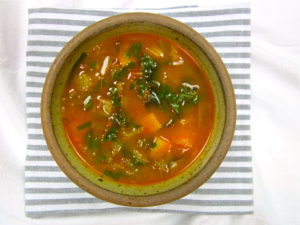 t to wilt them.
Make pistou (click for recipe) while soup cooks. At the table, add a spoonful of pistou to each bowl of soup and pass around grated Gruyère.
Serves 4-6.
Note: For a more rib-sticking soup, add cooked dried beans, or throw in small (or broken-up) pasta shapes towards the end of cooking.