Fish Tacos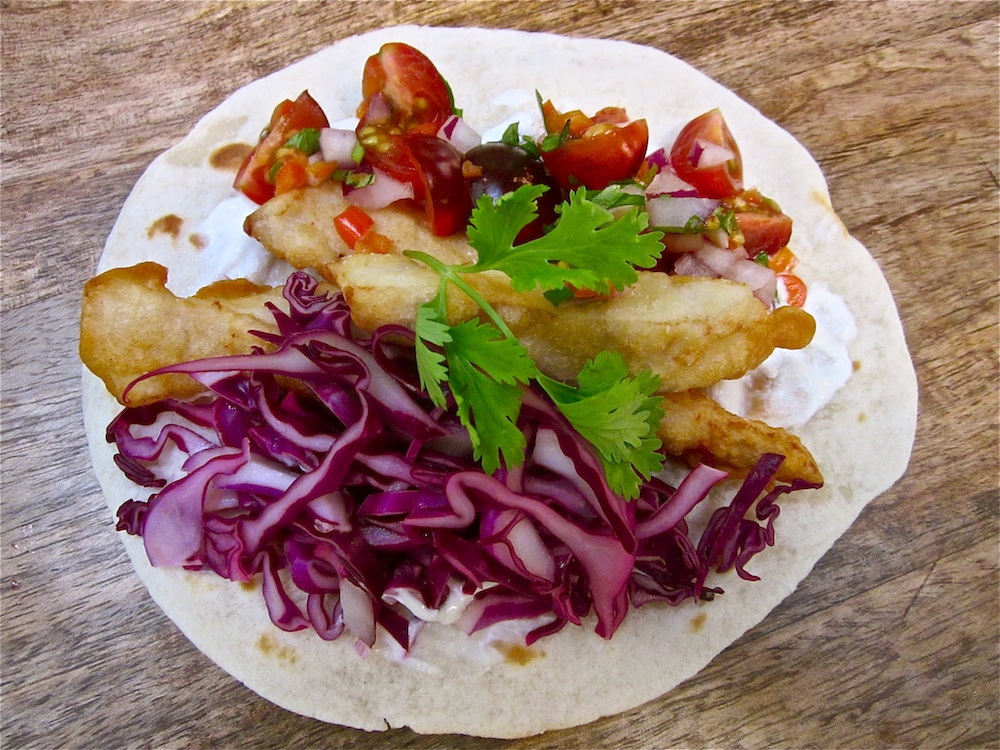 Next time scup is on offer at the dock, make fish tacos.
Plenty for 2 flour tortillas:
½ cup finely shredded red cabbage

1 lime (half for squeezing, rest for wedges)

salt

4 – 5 small cherry tomatoes, quartered

2 tsp. chopped red onion

½ tsp. minced jalapeno pepper

2 tsp. chopped cilantro, plus a few extra leaves

2 Tbs. sour cream
Beer-battered scup:
4 oz scup filets, patted dry, cut into fingers

2 Tbs. all-purpose flour (1 for dusting fish, 1 for batter)

2 Tbs. rice flour

1 Tbs. cornstarch

about 1/3 cup fresh beer

corn oil for frying

To serve: lemon wedges, your favorite hot sauce, eg Rooster's Rocket Fuel or Poquito Verde
Toss cabbage in a bowl with a squeeze of lime and a pinch of salt. In another bowl, mix quartered cherry tomatoes with chopped onion, jalapeno, cilantro, a squeeze of lime and salt to taste. In a small cup, season sour cream with lime juice to your liking.
Heat oil for frying, at least three-quarters of an inch deep. Cut fish into little fingers; toss with 1 tablespoon regular flour. Mix remaining tablespoon of flour with rice flour and cornstarch in a shallow soup bowl. Open a bottle of beer; stir in about 1/3 cup fresh beer, enough to make a pancake-batter-like consistency. Dip flour-dusted fish into batter to coat. Fry fish in hot oil, turning, until crisp and golden-brown. Drain and sprinkle with salt.
Warm flour tortillas on a hot cast iron pan until they start to blister and brown. Add a smudge of limey cream to each. Arrange fish, red cabbage, tomatoes, extra cilantro on top. Serve with a lime wedge, hot sauce, and the rest of that beer you just opened.