Free-form Heirloom Tomato Salad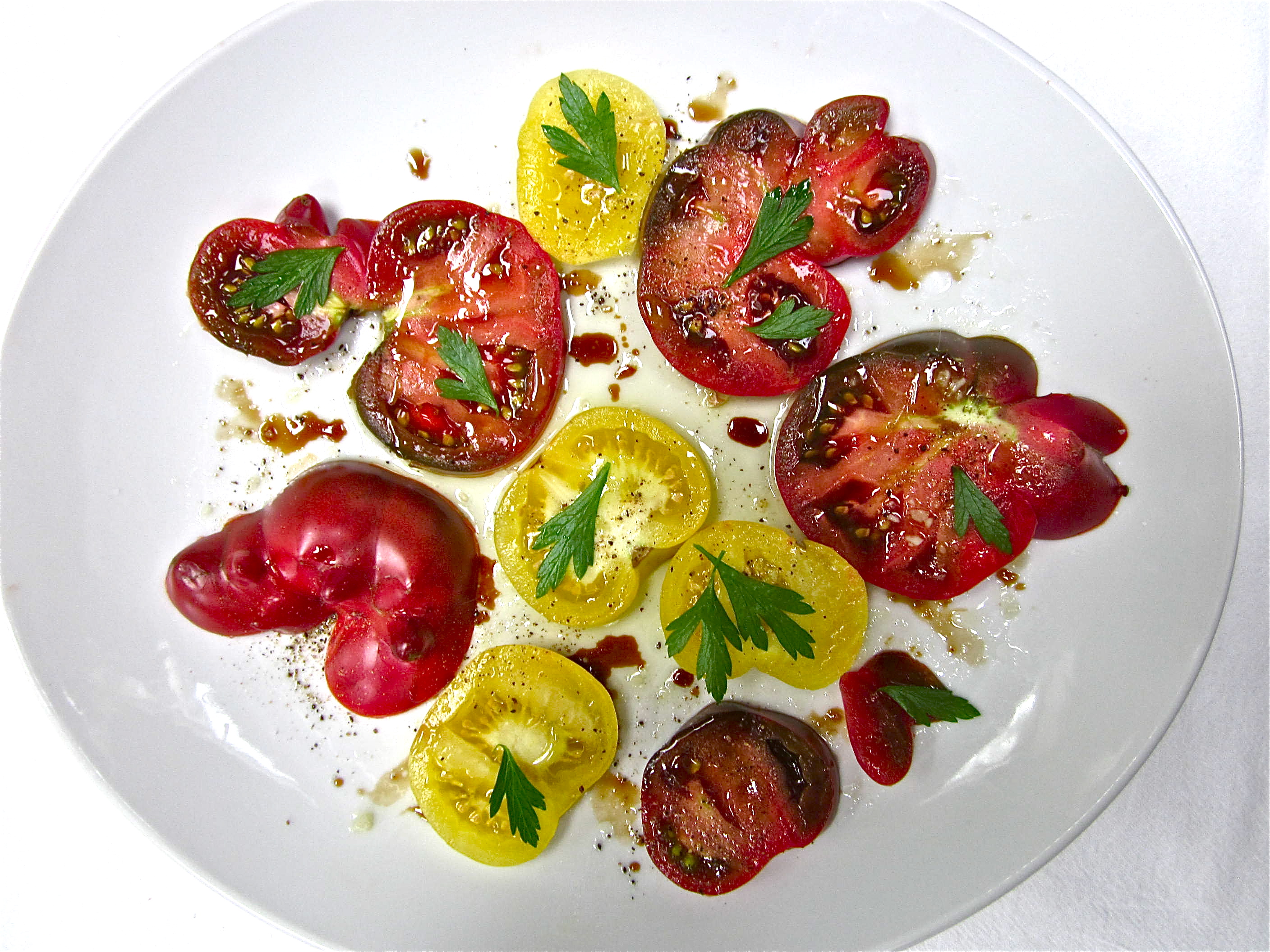 Non-conforming veg—too large, too small, too oddball in shape — may be rejected by large store chains, but our market has a very different perspective. We love taste! We celebrate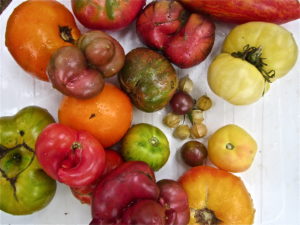 diversity! We're all for heirloom tomatoes with their rich colors, flavors, and free-spirited personalities. You can cut heirlooms into wedges for salad, of course. And they'll look more like a conventional tomato. But why not slice heirlooms in whatever direction best shows off their wild contours and droll protuberances? For this you need a sharp knife that'll slice through tomatoes without squishing and preserve their free-form shapes. Not so much a recipe, more of a guide – see pictures.
Free-form Heirloom Tomato Salad
2 heirloom tomatoes, of different size and conformation, at least one with an eccentric shape
1 Tbs.or so fruity olive oil
¼ clove of garlic, micro-planed, crushed or minced to a paste
salt and pepper to taste
1 tsp. balsamic vinegar
Italian flat-leaf parsley, or other herb of your choice
We used, just to give an example, one large Hungarian Heart with interesting contours, and a fuzzy yellow Garden Peach variety. First find a platter that will accommodate your sliced tomatoes in a single layer. Next make a free-form dressing. Micro-plane, crush or mince garlic to a fine wet paste. Stir it into 1 Tbs. olive oil with a pinch of salt. Spoon most of the oil onto the platter, and swirl it about with the back of a spoon. Dribble spots of balsamic vinegar into the oil here and there, saving a little for later.
Slice tomatoes fairly thickly in the direction that will give you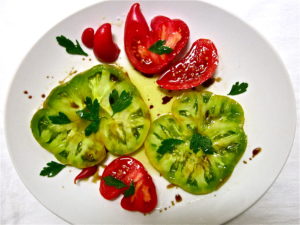 interesting cross-sections that show off the tomatoes' shape. Arrange in a single layer on the dressed platter in any free-wheeling way that looks good to you. (If you run out of space, add the odd slice on top in a way that still shows off the tomato shapes.) Sprinkle tomatoes with remaining oil and vinegar, and season with salt and pepper. Pull apart a few Italian parsley leaves, and scatter leaflets on the tomatoes.
Serves 2;  easily multiplied to serve as many people as you like.