Nobska Farms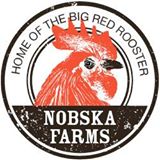 Nobska Farms, home of the Big Red Rooster, asked the question:
Can you grow chili peppers by the sea on Cape Cod?
Yes! In the village of Woods Hole we grow over 50 varieties of chili peppers from mild to wild and turn them into flavorful sauce, jelly and chocolate. Chili enthusiasts and regional chefs rely on Nobska Farms to satisfy their need for heat. Our chili community is large and growing through tours, markets and events. Join us!