Opening Day 2016 Round-up!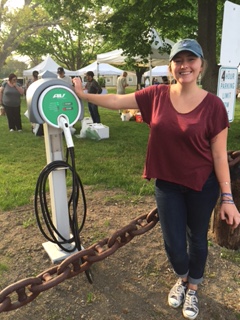 The sweet smell of lilac and lily of the valley drifted through the market last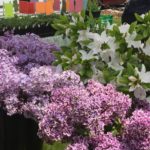 week. The lilacs were from Tina's Terrific Plants; the bouquets of lily of the valley from Peachtree Circle Farm. It was hard not to bury your nose in them.
This will be the market's second year at its waterfront location, and many of you said on Thursday how much you like the new spot. And then there's the parking (so convenient) with a new Electric Vehicle Charger (so cool.) If you haven't already, come explore. Many of our favorite farmers and vendors are back. New ones have joined us: Jenny's Edibles &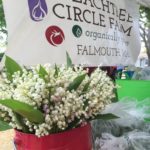 Blooms, selling edible and ornamental plants, and Cape Cod Winery  from Falmouth; Martha's Vineyard Smokehouse from across the Sound. (More additions to come as summer unfolds.) And please stop by the market information table. Find out which local fish is available fresh at the dock, pick up this year's wonderful Buy Fresh Buy Local brochure, and say hello to Natasha Miskovsky, our market manager.