Peachtree Circle Farm's Flowery Bee Food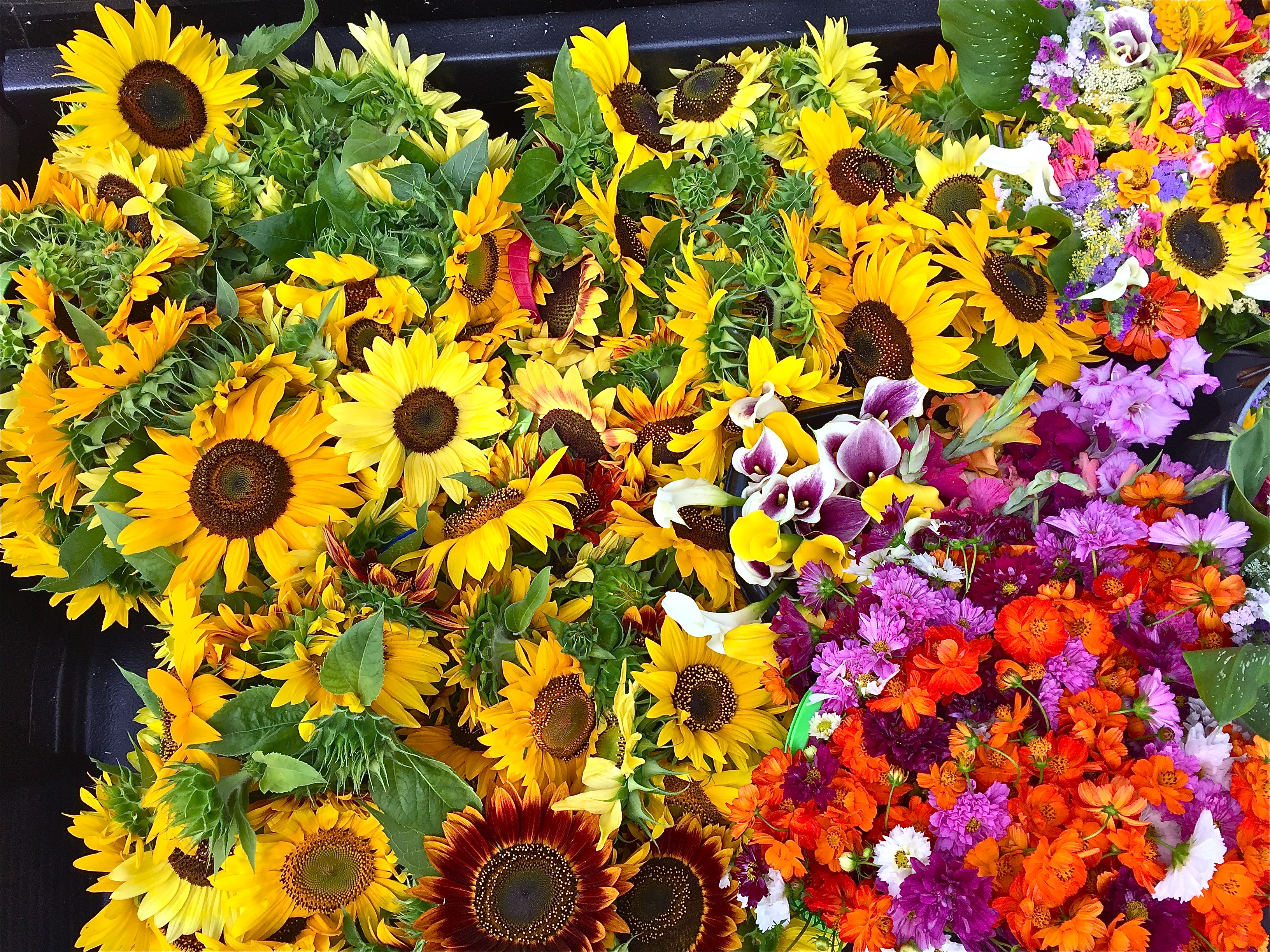 Peachtree Circle Farm is known for growing flowers. People make a beeline for its mixed bouquets,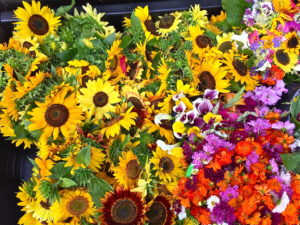 and its beautiful cut flowers. Earlier in the season you'd have found lilacs, peonies, calla lilies, lavender and gladioli at Peachtree Circle's market table. Right now you'll find big heads of sunflowers. Sometimes garnished with a bee.
We don't typically think of flowers as food. (Though there are certainly flowers that are edible – a subject for another day.) Mostly we enjoy flowers for their fragrant beauty. For bees and other pollinating insects, though, flowers might as well be billboards saying Eat Here Now! Flowers provide bees with nectar, which they use to make honey, storing it up inside the hive in waxy honeycombs. In a neat exchange, the foraging bees pollinate plants, including many plants we like to eat from apples to peaches and tomatoes, right through to zucchini. (https://en.wikipedia.org/wiki/List_of_crop_plants_pollinated_by_bees)
Fortunately, with all the flowers at , there is no lack of bees and other pollinating insects. Carrie Richter, who farms there, reels off some especially attractive bee magnets: "Off the top of my head? Lavender, marjoram, globe thistle, and sunflowers! "She encourages wildflowers to attract bees, too, leaving some areas to grow Queen Anne's lace, St John's wort, clover, chicory, goldenrod and swathes of milkweed. 'My orchard is wild with that stuff right now,' she says, "and the bees and butterflies are loving it."
There are neighborhood bee hives, says Carrie, including one on the farm, in an area called "Chestnut Bottom." No doubt her "exuberance of flowers" helps to feed them, and contributes to the local honey supply. Some honey is bottled, and some is left in the bees' own packaging, still on the honeycomb. Cut into little pieces, the honeycomb is a delicious mixture of taste and textures — and a rare treat these days.