Pickle Juice Fridge Pickles
Local food is so good, it makes you want to use every bit of it. Here's a way to make a lot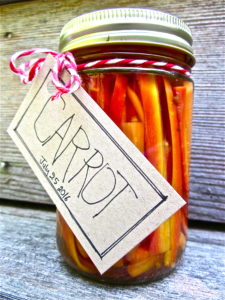 of a little. We had a few left-over carrots and used this fun idea from Sherri Brooks Vinton's new book, Eat It Up!
Pickle Juice Fridge Pickles
You've finished the jar of pickles and are now left with a jar of brine. What to do? Make more pickles, of course.
You can use this recipe to top up your brine and use it to regenerate a whole new batch of pickles. This trick is only good for one go round, though. The produce will dilute the brine too much for a second trip around the pickle barrel. And even if you did top up with straight vinegar, the flavors are too muddled to produce pickle perfection.
You don't need to stick to cucumbers here. Lots of vegetables make great pickles. Carrots, turnips, peppers, chilies, asparagus, green beans, cauliflower, onions, beets, radishes, garlic—yeah, you can pickle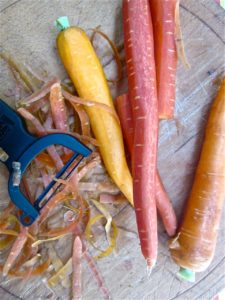 i that.
Makes 1 pint pickles
1⁄2 to 1 cup pickle brine
1⁄2 cup distilled white or cider vinegar (5% acidity)
1 pound vegetables, as described above
Pack a clean 1-pint canning jar with the vegetables of your choice. Place on a tea towel, to insulate the soon-to- be hot jar from the potential shock of the cool counter, and set aside. In a small saucepan, bring the brine and vinegar to a boil. Remove from the heat and pour over the vegetables. Allow to cool to room temperature. Cover tightly and refrigerate for at least 3 days and up to 3 weeks.
(Excerpted from Eat It Up!: 150 Recipes to Use Every Bit and Enjoy Every Bite of the Food You Buy by Sherri Brooks Vinton. Copyright © 2016. Available from Da Capo Lifelong Books, an imprint of Perseus Books, LLC, a subsidiary of Hachette Book Group, Inc.)
Note: Before jarring our carrots and pouring on the topped-up pickle brine, we cut them into sticks and blanched them for a minute to help them on their way. We were in a hurry to eat them as soon as possible — day 3 — and the briefest dunk in boiling water ever so slightly tenderized them.