Radish sandwiches with homemade herb butter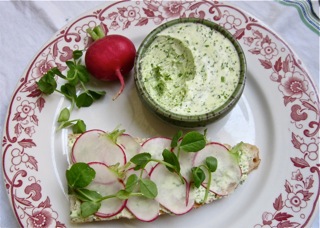 Our weekly recipes will be focusing on sandwiches this year – sandwiches interpreted in the broadest and loosest sense, including tartines, flatbreads, rolls (some fairly classic, some breaking all the rules) plus all kinds of quick-pickles, fixings and sandwich fillips. This week: herb-butter from scratch for your radish sandwiches. Choose the most additive-free cream you can find, grab a handful of herbs, a pinch of salt, and make home-made herb butter in minutes. Quantities can easily be doubled.
Radish sandwiches with homemade herb butter
1 cup heavy cream
squeeze lemon juice
1 Tbs each chopped parsley, dill, and scallion
fine salt
slice of baguette, slit lengthways
thin-sliced radishes
pea shoot sprigs
Measure 1 cup cream into a food processor and stir in a few drops of lemon juice. Let sit while you chop parsley, dill and scallion, about a tablespoon of each. Start processing (you can use a blender instead of a processor, but hold on to the top, especially if making larger quantities.) The cream will increase in volume and thicken but keep going. When the cream is very thick, you might want to briefly stop just to scrape down the sides — but the idea is to keep whipping until the cream "breaks." You'll hear a change in sound as the butter goes clumpy, and the liquid buttermilk slops around in the bowl. Drain off buttermilk, which will be dyed green by the herbs, and keep refrigerated for use in a sauce or soup.  Process butter again briefly, and drain some more. Plop the butter into a bowl and press out as much remaining liquid as you can with a spatula. (You can also plop the butter ball into a coffee filter and squeeze with your hands.) Stir salt into butter a little at a time until it tastes just right. Slather your herb butter onto a slice of baguette. It's nice on rye bread, too. Top with thinly sliced radishes and a few trailing pea-shoot sprigs, and eat.
Herb butter is very versatile—as a spread on bread or to dress hot vegetables– and small quantities are easy to use fast. If you are making a larger quantity of plain butter, though, and you want to keep it for more than a day, you have to go through an extra step known as washing the butter. No need here because, honestly, you're unlikely to have leftovers for long.