Radishes, with their own Greens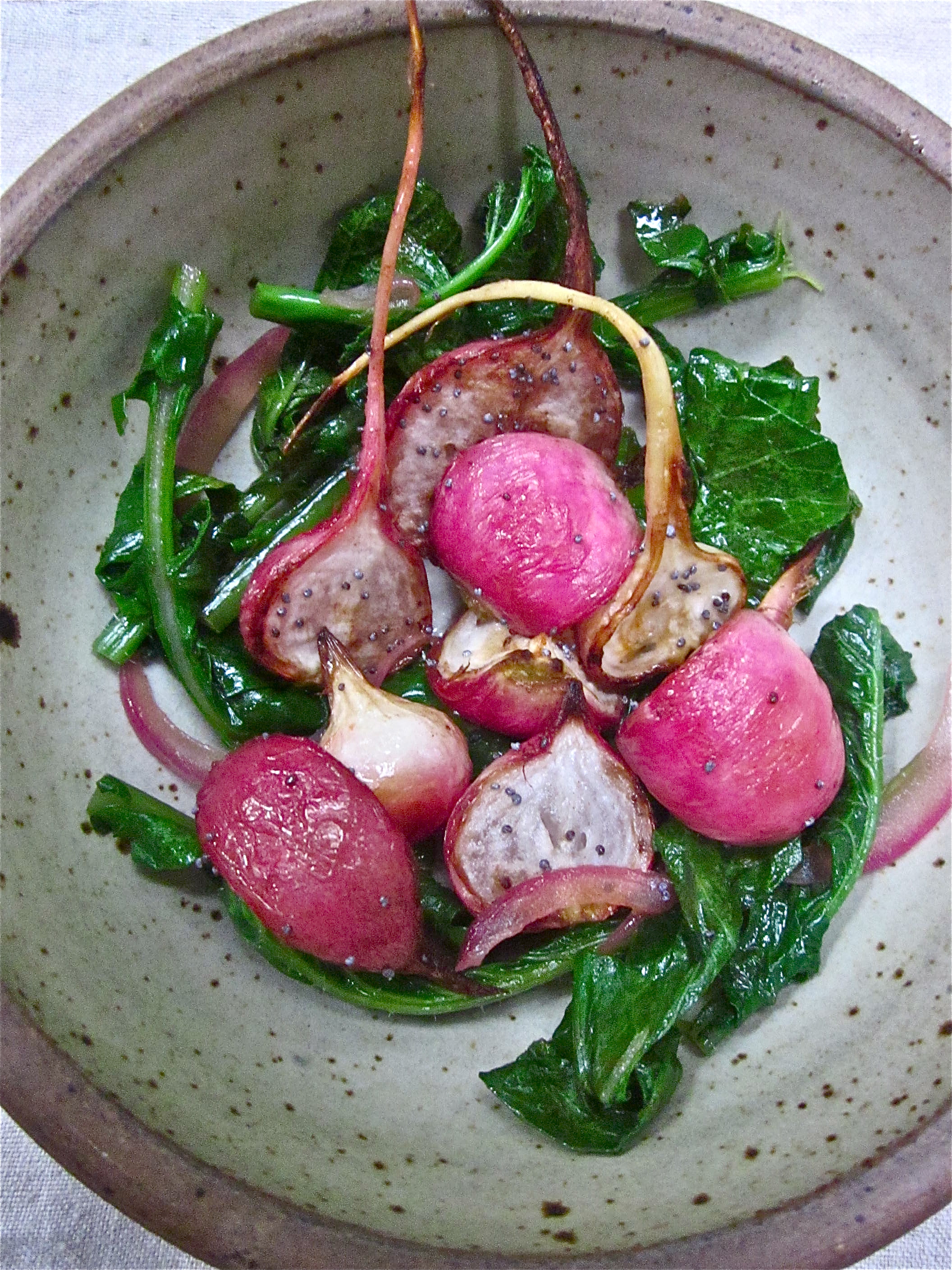 Why don't we eat radish tops more often? Maybe because the greens, strangled by rub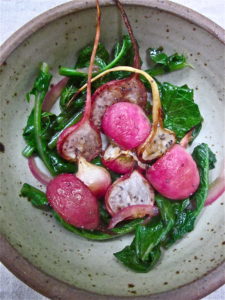 ber bands, often look half-dead in stores. At the market, though, we've lately seen radishes with nice leafy tops – and they're delicious. So this week's recipe in our Waste-Not series uses the whole radish, from top and bottom. To store radish greens in the fridge: slice leaves from the radishes, remove rubber band, and loosely bag the unwashed leaves, keeping them separate from the radishes. You can, of course, cook just the leaves, mixing them with other greens if you don't have enough. But try cooking both the tops and the little root vegetables, treating the radishes as tiny rosy turnips. Pretty as a picture.
Radishes, with their own Greens
Bunch of leafy radishes
1 Tbs. butter (or olive oil)
sprinkle of poppy seeds
paper-thin slivers of red onion
2 squeezes of lemon juice
Chop off radish greens. Pick out the best leaves (compost the ragged ones.) Rinse in several changes of water – you don't want gritty greens. Wash radishes and clean up their roots, shaving off any whiskery bits with a vegetable peeler. Halve radishes, or quarter if large, keeping their long rats-tails.
Melt butter in a frying pan. Add radishes, starting with the largest; stir to coat in butter. Place radishes cut side down, and cook slowly at a gentle sizzle until nicely colored, about 10 minutes. (Flip quartered radishes halfway through to color both sides.) Transfer radishes to an ovenproof dish, warmed in a hot 400 F oven. Season with salt, and sprinkle with poppy seeds (about ¼ teaspoon.) Roast for a further 5-10 minutes, depending on size, or until radishes are crisp-tender.
Meanwhile add a few red onion slivers to the butter left in the frying pan. Soften slightly, adding more butter if necessary. Take your handful of wet radish leaves and add to the pan with a sprinkle of salt, and a squeeze of lemon juice. Cook, stirring, for a couple of minutes, until leaves have wilted. Place a line of greens on a warm serving plate and tumble cooked radishes in beside them. Or nest greens and radishes in a bowl. Add another squeeze of lemon to the roasting dish, scrape up remaining poppy seeds and buttery juices, and pour over radishes. Serve piping hot.
Serves anywhere from 2-3 people as a side to a piece of fish or other protein, or one person as a simple vegetarian meal in a bowl (a vegan meal if you replace butter with oil.)