Roasted asparagus, hazelnut butter, Parmesan shavings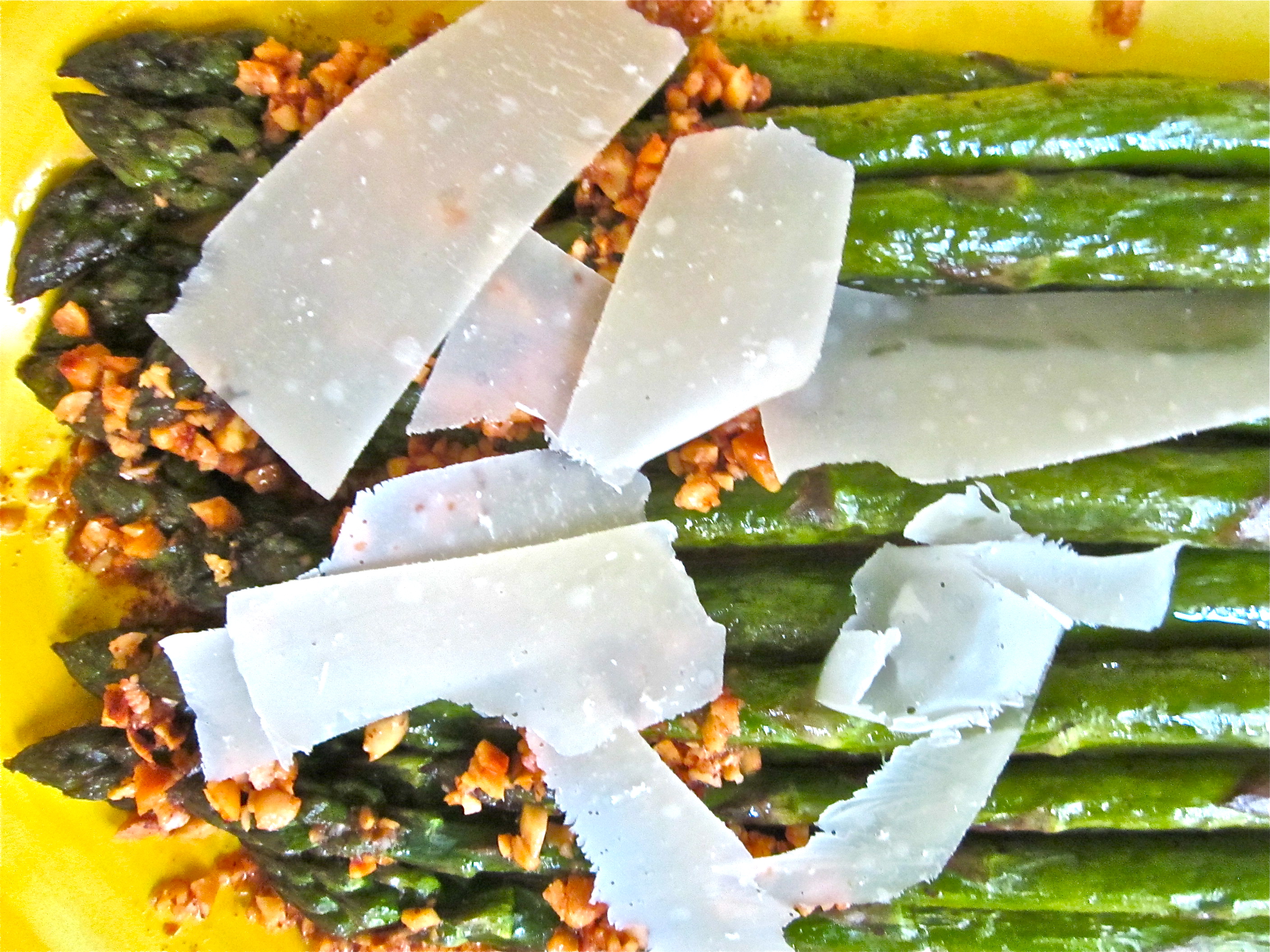 Roasting has become a favorite way to cook asparagus. (Lining the baking tray with parchment makes for quick clean-up.) Roasted asparagus is delicious just as it comes, but here's a way to dress it up. Rich enough to make a meal for 2 or a hearty appetizer for at least 4 people.
Roasted asparagus, hazelnut butter, Parmesan shavings
1 bunch asparagus (approx. 1 lb.)
2 Tbs. olive oil
salt and pepper
1 Tbs. butter
1 ½ Tbs. skinned, toasted, finely chopped hazelnuts (see below *)
Squeeze of lemon
Parmesan cheese shavings
Preheat oven to 425 degrees F.  Line a baking tray with cooking parchment. Trim tough ends from asparagus. Place on lined baking tray and drizzle with 1 tbs olive oil, salt and pepper. Roll spears around to coat in oil and spread out in a single layer. Roast in a hot oven until tender, 10 minutes, more or less, depending on how thick the spears are. Start checking after 5 minutes, giving tray a shake to roll spears around.
Meanwhile in a small pan, gently heat hazelnuts in butter and remaining oil until golden. Season with salt and small squeezes of lemon juice. (Watch for spatters and let a spoonful of butter cool before tasting it. Seriously. You don't want to burn your tongue.) Plate the asparagus and drizzle tips with hazelnut butter.  Scatter over paper-thin slivers of Parmesan, shaved from a block of cheese with a vegetable parer.
For 4 to 6 as a side-dish or starter, for 2 if eaten with a hunk of good bread for lunch or supper.
*If hazelnuts have skins on: toast a handful of hazelnuts  (scant ¼ cup) in a 350-degree oven until dark brown skins split and loosen, about 10 mins.  While hot, wrap nuts in a double-thickness paper towel with a large pinch of salt. Twist top of towel to enclose. Press and massage the bundle between your hands to rub skins off the nuts. If a few bits of skin remain, no worries. Cool nuts and chop.