Russian salad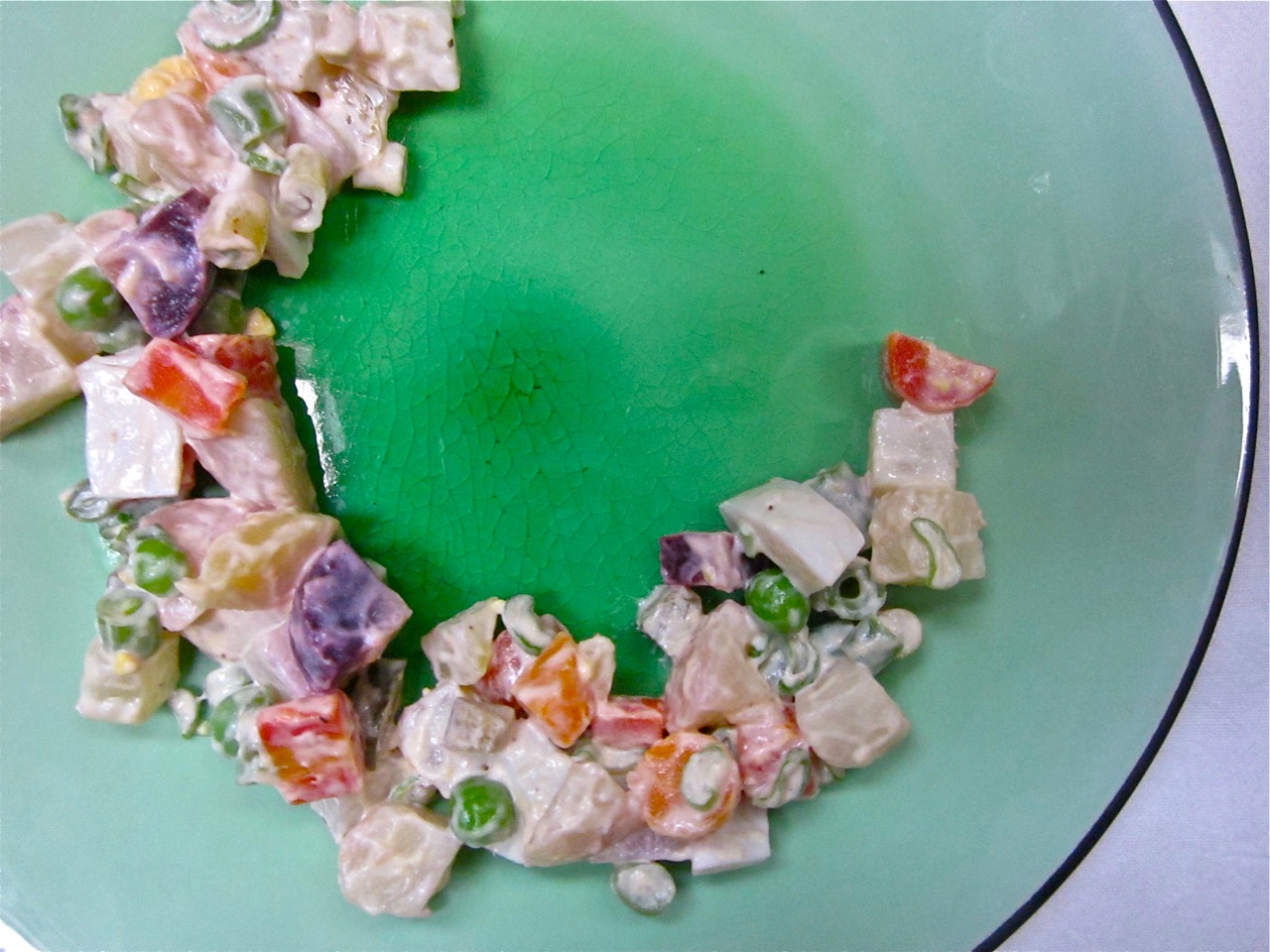 How come "Russian Salad" isn't better known in the US? Variations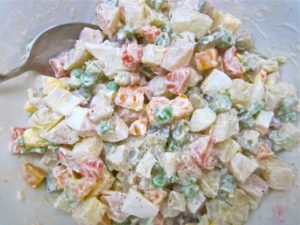 on the theme of potatoes, carrots, peas and pickled cucumber in a creamy dressing seem to have spread around the globe, from Europe to Latin America and parts of Asia. When peas aren't available, cut-up beans can take their place. In the Mediterranean you'll find pickles nudged out by green olives. Sour cream (even yoghurt) sometimes replaces some or all of the mayonnaise. Not everyone uses chopped egg. Some add cubed chicken or ham. You could say "Russian Salad" has become more a state of mind—a source of creamy root-vegetable comfort — than a recipe. It's also a good crisper-clearer, a way to use "bits" in the vegetable bin. Yes, even kohlrabi. And yes, that funny-shaped but delicious potato and charmingly crooked little carrot. It's our waste-not recipe this week.
Russian salad
2 medium potatoes, such as Yukon Gold or Red Marie from Freshfield (8 oz or so)
½ small kohlrabi, peeled and cubed (or another small potato)
2 small carrots (about 2 oz.)
shelled peas (fresh or frozen) or handful of fresh green beans, or a mixture (about 2 oz)
2 Tbs. chopped scallion or onion greens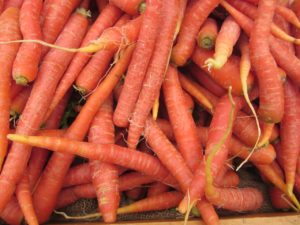 4 Tbs. diced dill pickle
1 tsp. capers, drained
1 large egg, hardboiled, peeled and roughly chopped
3-4 Tbs. homemade mayonnaise or Hellman's
salt, pepper and pickle vinegar, to taste
chopped parsley
Bring potatoes to a boil in salted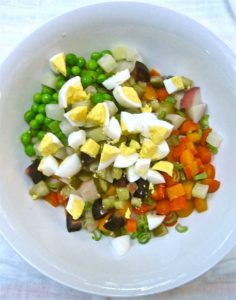 water, then turn down heat and simmer until tender. Drain, remove papery skin, cool and cube.
If using kohlrabi, peel, cube and simmer until tender. Drain well and add to potatoes in a bowl.
Cook carrots in boiling salted water until tender. (We used a bit of "purple haze" carrot as well as an orange variety, because that's what was in the fridge.) Cool in icy-water, drain, rub off skins, and dice. Add to potatoes in bowl.
Cook shelled peas, if using, until tender but still bright green. Cool in icy-cold water and drain very well. Do the same with green beans. Cut beans into pea-sized pieces and add peas and/or beans to bowl.
Add scallions, pickle, capers, and roughly chopped egg.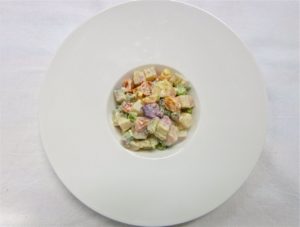 Mix with mayonnaise, enough to coat everything, and season to taste, adding a little pickle juice if you like. (If necessary, add a little cooking water or pickle juice to keep dressing creamy.) Scatter over chopped parsley.
Serves 4; easily doubled. A great make-ahead dish for back-yard cook-outs.