Tomato-Mozarella Sandwich, with Chopped Pesto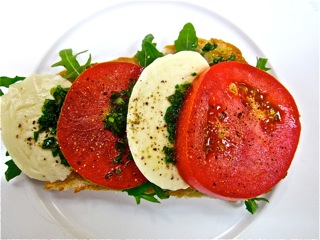 Hand-chopped pesto, enough for 2-3 sandwiches:
1 small juicy clove garlic
Scant ¼ tsp. coarse salt
3 Tbs. coarsely chopped parsley
1 Tbs. coarsely chopped basil, mint, or hyssop leaves, or a mixture
1 ½ Tbs. or so olive oil
For each sandwich:
Long, slanting slice of ciabatta , baguette or a section of halved Italian bread
Small arugula leaves, e.g Lucky Fields' sylvetta
Mozzarella slices (cut from a half-pound ball)
Tomato slices
Freshly ground pepper
Finely slice garlic on small cutting board. Sprinkle with salt and chop until it's almost pasty.
Chop herbs separately – you want about 4Tbs. chopped herbs altogether. Add some of the herbs to the garlic, and chop them together, scraping the mixture together as it spreads, then chopping it some more. Add remaining herbs a bit at a time, chopping them into the mixture, too, until everything is compacted into a small finely-chopped pile that almost holds together. Turn herb mixture into a small bowl, stir in enough olive oil to make a loose saucy pesto and adjust seasoning.
Place a few arugula leaves on the bread. On top, alternate slices of mozzarella and tomato in a single, slightly overlapping layer, spooning a little pesto between the slices. Grind over coarse pepper. Eat with a knife and fork.