Twenty-Minute Tomato Sauce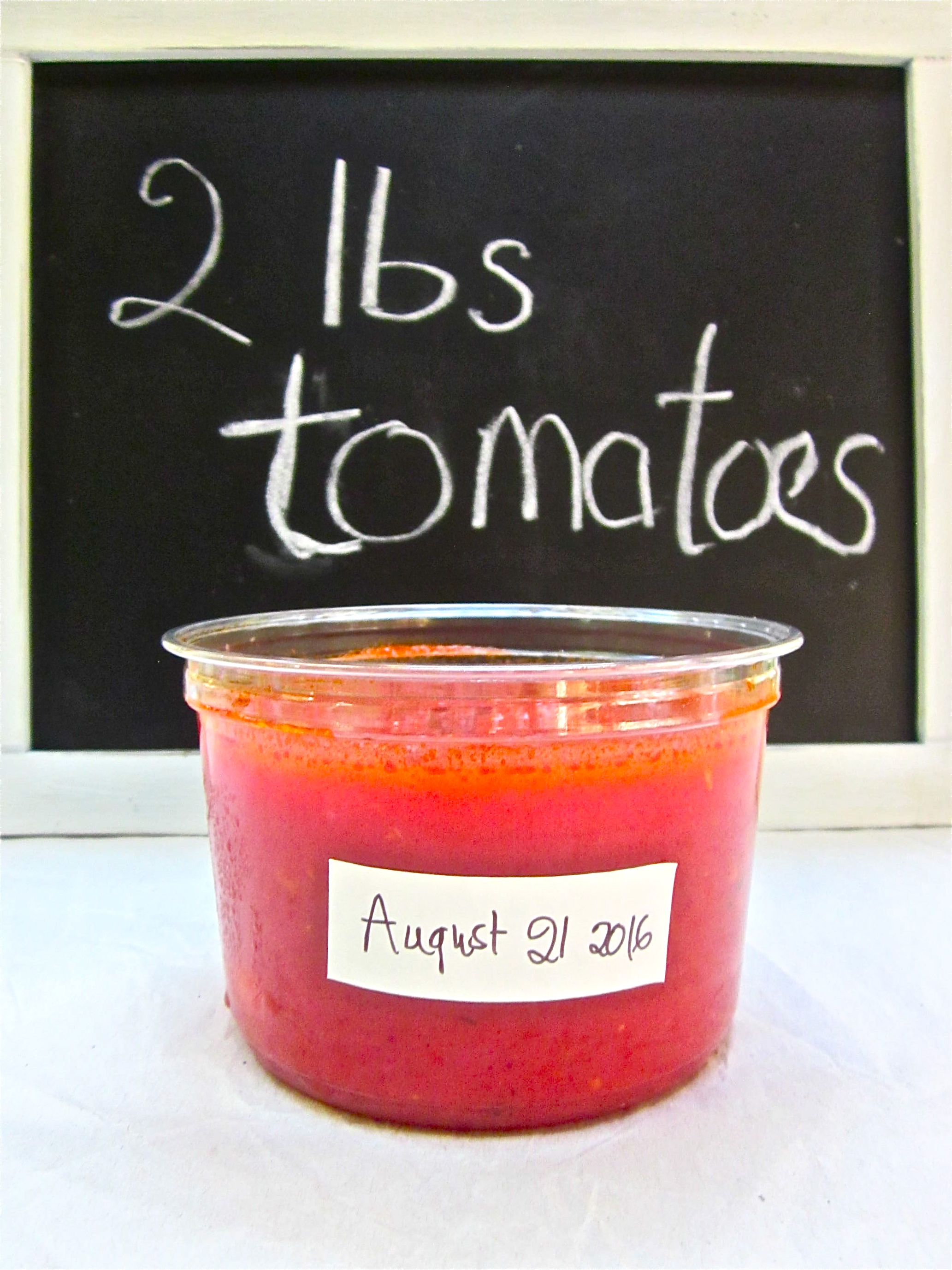 Here's a recipe for fresh, bright tomato sauce. We first ran it 9 years ago, before the market had a website, let alone a F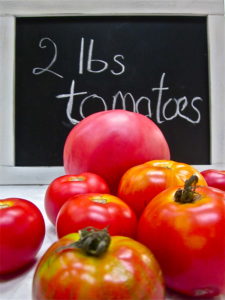 acebook page or Instagram. We're giving it an encore (with pix online) because it's a classic way to make the most of local tomatoes, and fits perfectly with this year's Waste-Not recipes. Serve this sauce over pasta tossed with either a little olive oil or with butter and a spoonful of pasta cooking water. Make extra for the freezer and save it for that rainy Fall day when you pine for a little summer in your life.
Twenty-Minute Tomato Sauce
2 lbs or other meaty tomatoes
4-6 peeled cloves garlic, left whole and lightly crushed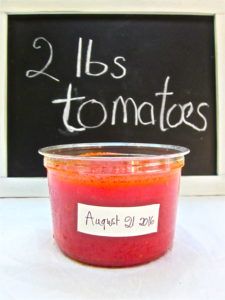 2 Tbs olive oil
2 stalks fresh basil, rinsed
1/2 Tsp or so salt, and freshly ground pepper
Skin tomatoes: dunk them, a few at a time, in freshly-boiled water, then remove after a couple of minutes and peel. Quarter tomatoes and scoop out seeds into a sieve propped over a bowl to catch juices.
Working in batches, tear up tomatoes and drop into a blender, moistening them with the seedless juice. Purée briefly if you like your sauce chunky, longer if you want it smooth.
Meanwhile, in a deep non-reactive saucepan, gently soften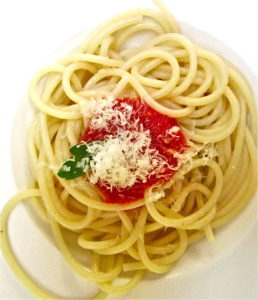 lightly crushed garlic cloves in a couple of tablespoons of olive oil. Add puréed tomatoes, salt, pepper and basil stalks (leafy tops down.) Simmer briskly—tomatoes should bubble, not spatter—stirring occasionally until sauce has thickened. About 20 minutes should do it. Remove basil stalks and visible garlic cloves, check seasoning and serve. Serves 4-6.
Waste-Not tips:
We used whatever tomatoes were at hand. It was a mixed bag. A big Hungarian Heart, weighing close to a pound, with a couple of dings. Cherries that had split and tomatoes threatening to soften. Our pell-mell tomatoes were juicier than the Italian ones called for in the original recipe so we cooked the sauce 5-10 minutes longer. To extract every last bit of juice from the tomatoes, we saved skins, seeds and cores in a sieve propped over a bowl, mixed them with a pinch of salt, let them sit for a while, then stirred and pressed the solids in the sieve to squeeze out all their tomato-ey juices. (This tomato water is also your ticket to a wonderful light Tomatini-like cocktail. Just saying.) We poured all the skinned, puréed tomatoes and juice into the pan with garlic softened in oil, and let everything bubble until saucy. No basil, so we substituted a couple of thyme sprigs; we could also have used fresh oregano.