Veggie Wraps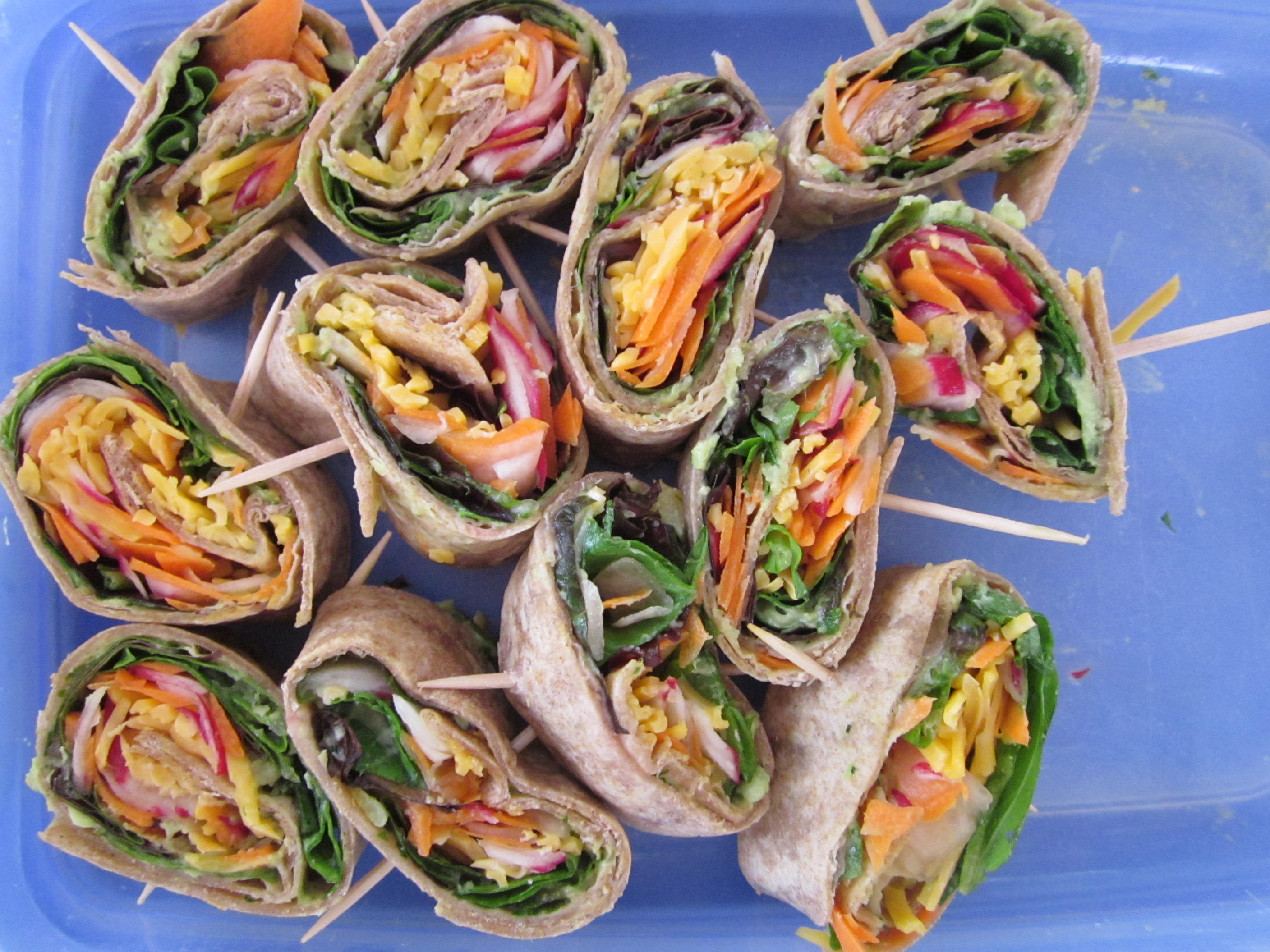 Have you visited the Falmouth Service Center table? Two weeks ago, David Hearne was there showing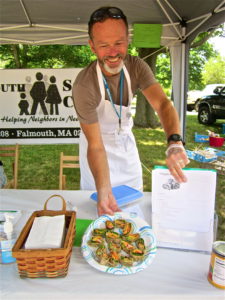 us how to make "Veggie Pinwheels," slices of whole-wheat tortilla wraps, packed with fresh crunchy vegetables. David volunteers with the Service Center, doing food demos, and these colorful wraps are a hit whenever he makes them for the Center's "Fresh Market" program in the schools. His recipe is based on this one, below, from Share our Strength's Cooking Matters. His "pinwheel" tweak: slice the wrap into approximately one-inch, easy-to- pick-up pieces and secure them with toothpicks. Wouldn't Veggie Wraps be great for using up those little bits of vegetables in your fridge? They're this week's Waste Not recipe!
Veggie Wraps
4 large radishes
1 small carrot
1 cup salad greens
3 sprigs fresh herbs (parsley, dill, cilantro, or combination)
1 lemon
2 ounces low-fat Swiss or Cheddar cheese
1 large, ripe avocado
¼ cup nonfat plain yogurt
3 (8-inch) whole-wheat flour tortillas
Scrub and rinse radishes and carrots. Rinse salad greens. Pat all veggies dry.
Use a vegetable peeler to peel radishes and carrots into long thin strips. In a medium bowl, collect veggie strips. (Chef's notes: Use any of your favorite seasonal veggies in this wrap. Grate, chop or peel into thin slices before adding.)
Rinse herbs. Pluck leaves off stems. Tear leaves into smaller pieces.
Rinse lemon. Zest using the small holes of a box grater. Cut in half and remove seeds.
Grate cheese.
Slice avocado lengthwise. Remove pit. Scoop avocado out of shell. In a sm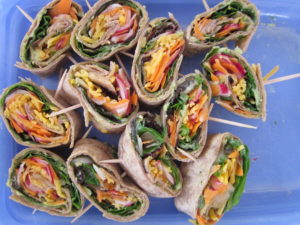 all bowl, use a fork to mash avocado. Stir in yogurt. Squeeze a little lemon juice onto avocado mixture. Add herbs and a pinch of lemon zest. Stir.(Chef's notes: Use 1 cup homemade guacamole in place of avocado.)
Warm 1 tortilla in the microwave for 30 seconds, or as long as needed. Place the warm tortilla on a cutting board. Spread 1/3 avocado mixture over center of tortilla. Layer with 1/3 greens, 1/3 grated veggies, and 1/3 cheese. Squeeze more lemon juice over the mixture. Roll tortilla and toppings into a log shape. Use a knife to slice wrap into four "pinwheels" (David sliced the log into approximately 1-inch pieces, secured by a toothpick.) Repeat process for the other two tortillas. You will end up with a total of 12 pinwheels (more if you slice them as thin as an inch.) Serves 4.
A Use-What- You-Have version:
With no avocados in the house, we simply chopped a handful of cilantro with garlic and s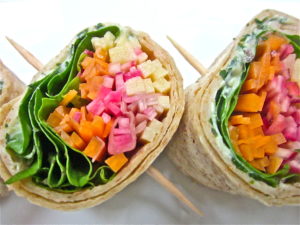 alt to make a rough paste and stirred it into thick yoghurt with a little olive oil to make a tangy spread for the wraps. No radishes in the fridge, either. So we used the closest thing to radishes we had at hand: raw Chioggia beets (pink and white inside, they look a little like pinwheels themselves in cross-section.) Then, since some of the beet leaves were fresh and tender, we used those for our wraps instead of lettuce. In some of the rolls, we substituted shreds of left-over chicken for the cheese. In those we added pickled carrot sticks (see last week's recipe) instead of fresh carrot shreds.
David gave us some good tips for filling and rolling the wraps. Mentally divide each tortilla into 3, and fill the middle section. Dab a little of the avocado/yogurt spread on the top third, especially at the edges – it helps seal the wrap together. Fold the lower third of the tortilla over the filling, tucking everything tightly together, and then  roll up. It's a wrap!