Weekly Update – August 6, 2015
This week is Farmer's Market Week in America. Here in Massachusetts, the week got off to a grand start with the opening of the Boston Public Market, a year-round, covered, regionally-sourced market planted smack in Boston's downtown.  "I encourage everyone to support Massachusetts' hard-working farmers by visiting their local farmers market this week," said Governor Charlie Baker. (That would be the Falmouth Farmers' at Marine Park this Thursday. And the Green Harvest Market at the Cape Cod Fairgrounds on Tuesday.)  Department of Agricultural Resources Commissioner, John Lebeaux, had this to say: "The farmers and food producers who make these markets possible and the communities that host them reflect the growing demand of the Buy-Local movement. The variety of farm products and specialty foods found at farmers' markets is stunning and the quality and craftsmanship from our local farmers and food producers cannot be beat." Come to our market Thursday and see for yourself. While you're there, consider investing in our small cap. The caps are embroidered with our tasteful turnip logo. Wear 'em with pride!
Here are some stunning things you might see on Thursday:
Blueberries, blueberries, blueberries.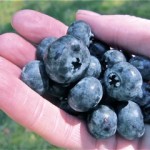 And plums, peaches and small apples. And did we mention blueberries? Tomatoes, cherry tomatoes, beans, eggplant, green peppers and corn. (Tomatoes or eggplant will be the vegetable featured on the recipe card at the Rooting For Health table.) A variety of new potatoes – some half a dozen from Freshfield Farms alone. Cucumbers, summer squash, including round summer balls, zucchini, and delicata. Also mushrooms, broccoli, small cabbages, including Savoy cabbage. All sorts of leafy greens, including lettuce heads, bags of mixed greens, arugula, New Zealand spinach, sorrel, pea-greens, micro-greens, chards, and kales. Carrots, beets, kohlrabi, radishes, turnips, leeks, beautiful red and white onions, recently harvested garlic, and beautiful garlic braids. Herbs in bunches and pots, container lettuces, edible flowers, sunflowers, flower bouquets, herbal products, and botanical oils.
Cheeses: Great Hill Blue and cheeses from Shy Brothers and Long Lane Farm in the cooler at Olio di Melli; mozzarella, burrata and Armenian string cheese from Fromage à Trois. You'll also find nice farm eggs, including duck eggs, fresh handmade pasta, including ravioli, bread, baked goods, granola, apple-cider doughnuts (we hope) salad dressing, honey and preserves. (Please note this is Green Briar's final week this season, so stock up on jams, jellies, honey, sun-cooked fruit and salsa.)  To drink: fresh juices, coffee, wines from Coastal Vineyards. And from Sirenetta: salty caramels and summer chocolates including a fabulous blueberry-hyssop chocolate, while the blueberry-picking lasts.
For local day-boat fish: a map at the market information table will steer you quickly to Machaca Charters at the dock. Bring an insulated bag and ice-pack to carry your fish home.
You can also deposit food-scraps you've saved at home in the bins provided by Compost With Me. Almost 200 pounds have been collected at the market—keep it up, Falmouth! Bikers: get your tune-ups from the Bike Lab between noon and 2pm.