Weekly wrap-up: June 3, 2016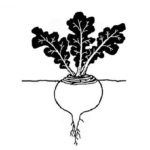 "Will fish be back? " people were asking all winter. Captain Willy Hatch's fish gained quite a following last summer. Many said they'd never tasted fish so fresh. So, good news, eager pescavores: locally-caught fish is available again this year from Captn. Hatch's boat, the Machaca. The Machaca ties up at Charter Fishermen's Row on Falmouth Harbor, a short walk from the market on Marine Park. Like last year, the "Catch of the Day" will be sold at the dock, on Thursdays, to more or less coincide with market hours. You can pick up a little hand-drawn map at the market information table to expedite you to the spot.
Catch of the Day last Thursday was scup, also called porgie or sea bream. Snap it up whenever you see it. It's a fine white-fleshed fish. It's delicious cooked and great raw for sushi. Jack Wilson, who is working with Willy again this summer, will fillet the fish for you, skin off or skin on. (The skin crisps up nicely, but you will need to remove the scales and deal with a few midline bones towards the front.) We also asked Jack for the racks– the fish skeletons. There are always fish scraps and skin left on the bones and they're excellent for a quick 20–minute stock. (See last Tuesday's recipe online.) We toss out far too much food in the U.S – nearly 40%. So this year our market recipes and tips will be about making the most of our local foods, and trying to be less wasteful.
Last week, Ali Berlow, who wrote The Food Activist Handbook, told us about the Northwest Atlantic Marine Alliance. Take a look, she suggested, at what it has to say about the bits of fish we often throw away: http://www.namanet.org/wait-dont- throw-outmultiple- uses-your-favorite-fish- scraps . Excellent tip. Besides making fish stock, you can also use fish scraps to feed your garden. The site provides a recipe for Fish Emulsion Fertilizer.
Fishermen around here often recycle fish trimmings as bait. "All our unused parts go to a lobsterman," says Nils Leaf, of Martha's Vineyard Smokehouse, who has just started bringing smoked fish to the market. Waste not, want not.