What to expect at the July 21, 2016 market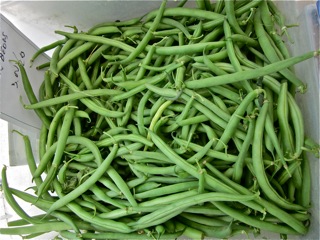 Corn has arrived. Blueberries are here. Cherry tomatoes are coming in. It's looking like mid-summer. Feel hot? Come to the market and enjoy our air-conditioning. We have a tree-shaded spot at Marine Park, with breezes coming off the harbor. Also: Sam's American Ices in delicious fruity flavors.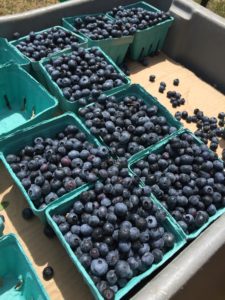 In case you missed the news last week, Silverbrook Farms is bringing local meat from the Buzzard's Bay area. Sold from the freezer at their market stand. And in case you haven't discovered it yet, Fromage à Trois has a lovely, creamy "fonduta." It's made with goat's cheese and herbes de Provence. A sauce for pasta, a dip, a spread for bread – it's delicious just smeared on a baguette with juicy slices of tomato. Please ask Fromage à Trois to bring it every week!
Activities this Thursday include: A visit from The Goatscaping Company to explain how versatile goats can be used to clear brush, including poison ivy. Community composting with Compost with Me; last week you diverted 115 pounds of food scraps from the landfill by bringing them to the market, says Mary Ryther. Keep it up, Falmouth! An opportunity to learn about a great nutritional program from the Falmouth Service Center. Foods To Encourage is a nutrition clinic for anyone at risk for hypertension and diabetes. The program offers health-monitoring, a weekly bag of fresh produce and recipes to encourage healthier eating. For more info, please stop by the Center's tent between 2-3pm. (Donations of fresh market veg are also much appreciated and can be dropped off at the cooler under the Center's tent.)
If you'd like to use your EBT card, please introduce yourself to our market manager, Natasha Miskovsky, at the information table. Thanks to the Woods Hole Foundation, every dollar charged to an EBT card will be worth two dollars to buy fresh produce at the market.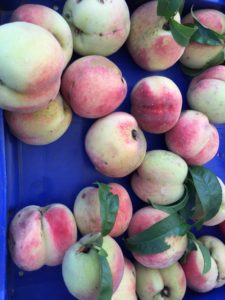 Here's what you might expect this Thursday:
Pork and beef (including ribeye) at the Silverbrook Farms' freezer.
Corn
First peaches and blueberries, redcurrants, maybe raspberries.
Arugula, spinach, chard, a variety of kales, collards, tatsoi, good-looking broccoli, pea-greens, mixed lettuces, lettuce heads and microgreens.
Cultivated oyster and lion's mane mushrooms
A variety of young carrots, including purple haze carrots, radishes, several kinds of beets, small hakurei turnips, kohlrabi. Leeks, scallions, onions with their greens, newly harvested hard-neck garlic, last of the garlic scapes, parsley, cilantro, mint, rosemary and sage.
Zucchini, summer squash, kousa, and bi-colored zephyr squash, cucumbers, green peppers and a variety of tomatoes. Snow peas, fennel with fronds, celery heads with leaves, Italian flat beans, green and wax beans.
New thin-skinned potatoes (lovely in potato salads, see our Russian Salad recipe, or steamed and tossed with butter and parsley.)
Smoked fish, made with fish from local waters, patés, and smoked salsa from Martha's Vineyard Smokehouse.
Farm eggs. Massachusetts cheeses: Long Lane Farm's goat cheese made fresh that morning, Great Hill Blue, Hannahbells, and Cloumage. Mozarella, burrata, Armenian string cheese, and assorted fresh pasta, plus fonduta, the new creamy cheese sauce/dip/spread from Fromage à Trois.
Pain D'Avignon breads, and new snack-size health-bars, shortbreads, and brownies. Apple-cider doughnuts, jams and jellies, honey, Monomoit Wild sea-salt and maple syrup. Pickles, including dill and bread and butter pickles.
Herbs — and still some vegetable starts and lettuce plugs– from Allen Farm and Tina's Terrific Plants; sprays of lavender, beautiful flower bouquets—and Peachtree's graceful calla lilies.
Coffee beans and beverages, juices, wines from Westport Rivers Winery and Falmouth's own Cape Cod Winery – and Uncle Sam's American Ice in flavors like watermelon and ginger.
Dog-day- of-summer treats for your four-footed friends.
Community composting and activities to teach you and the kids all about the hows and whys of composting food scraps. Supported by  a grant from CARE.