Cucumber Tea Sandwiches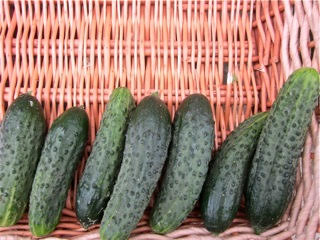 Cucumber tea sandwiches
For each sandwich:
2 thin slices of bread, cut from a square Pullman loaf
unsalted butter, at room temperature
about half a small cucumber, peeled
sea salt and freshly ground pepper
squeeze lemon juice (optional)
Generously butter thin slices of bread with good unsalted butter. Cut a piece of cucumber the width of the bread slices. Peel cucumber. Shave off a sliver so the cucumber rests steady on a cutting board. Slice cucumber into thin long strips until you reach the seediest bit at the center. Rotate cucumber, and slice lengthways on the other side. Rotate and repeat until all the cucumber is sliced and you're left with a core of seeds. Dry slices on a paper towel and set aside core.
Arrange cucumber slices across one slice of bread, overlapping them slightly. Season with salt and pepper.  Squeeze over a drop or two of lemon juice if serving immediately. Top with second bread slice and press down lightly. Trim crusts, then slice sandwich neatly into three fingers. You can use the seedy core of cucumber to wipe the knife blade between cuts –- it will cut more neatly. If making ahead, keep sandwiches whole under a slightly dampened cloth, trimming crusts and slicing sandwiches just before serving.  Serve on a nice plate with a cup of tea.