Lettuce soup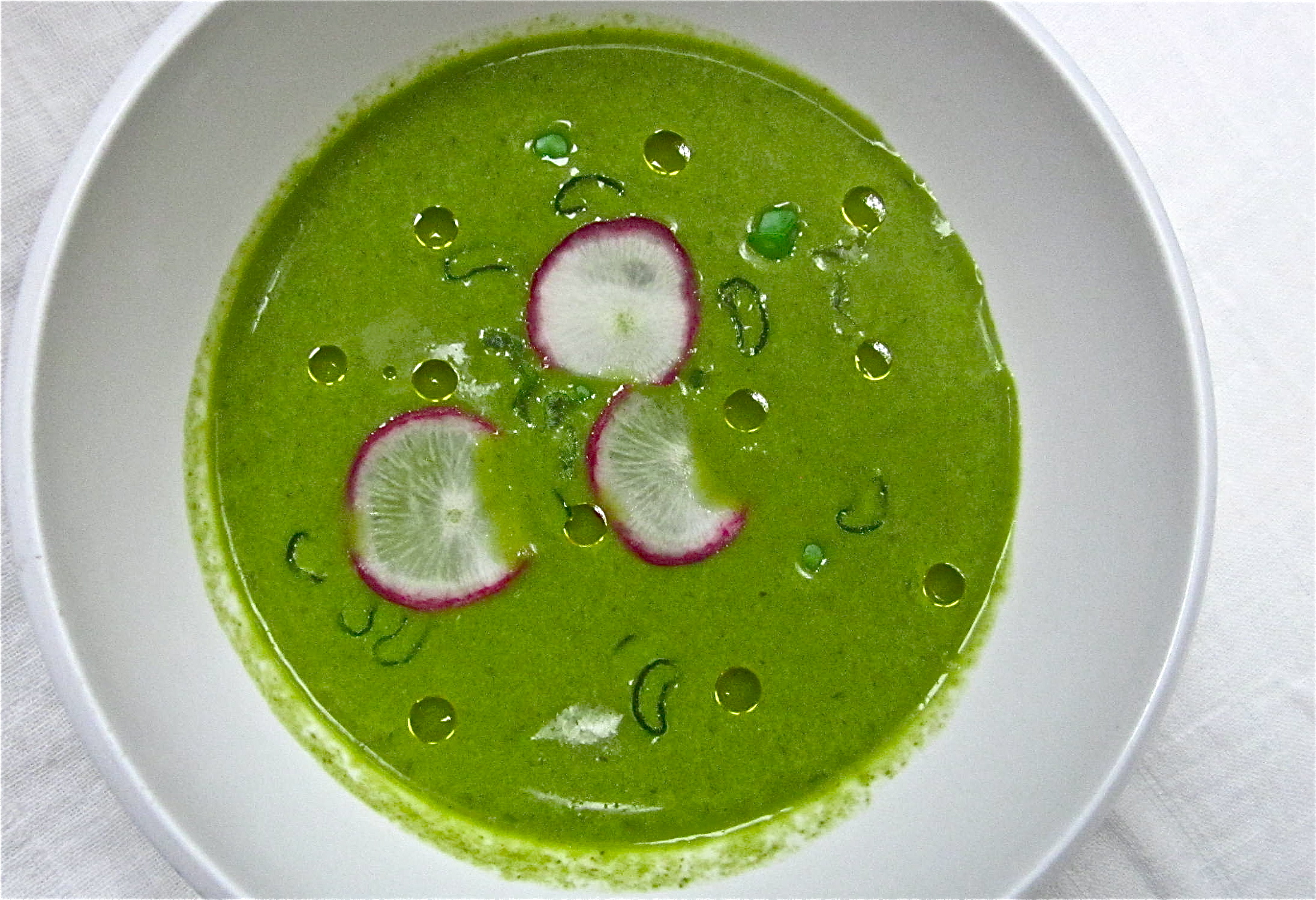 Waste not! Make this soup when you have lettuce going limp. Or m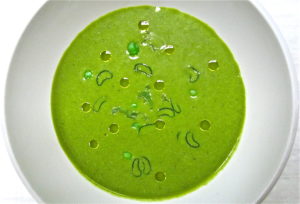 aybe you want to use up those floppy outer leaves of hefty lettucenheads, while keeping their hearts for salad. Either way, this summernsoup is a quick way to consume lots of lettuce. Serve well chilled. It'sblettuce – so have fun with the "dressings."
Lettuce soup
Handful of pea pods or sugar snaps, enough to give you 2Tbs.
shelled peas
salt, pepper
1 Tbs. butter
1 cup chopped scallions or tender onion greens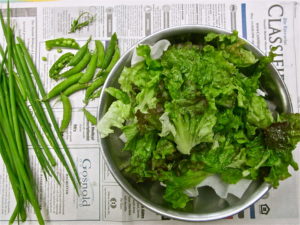 6 oz tender lettuce leaves, ribs removed, torn up (approx 6 cups)
½ tsp. sugar
½ tsp. finely chopped mint
¼ cup thick Greek yoghurt
for "dressing": olive oil; extra mint and onion greens, sliced thin
Thinly sliced radish if you like, or 3-4 nasturtiums
Shell peas and set aside. Roughly chop pods; simmer briefly in 2 cups of lightly salted water until soft and drab. Strain, keeping pea-broth (consign pods to compost bin.) Measure pea-broth, top up with water to make 2 cups again, and return to the boil. Add peas and blanch for a minute, or until bright green and just tender. Drain peas, saving pea-broth. Cool peas under running water; keep for dressing up soup later.
Melt butter in pan and start cooking scallion or onion greens until they brighten in color. Add pea-broth and simmer for a few minutes until onion greens are soft, but still bright green. Stir in lettuce, a handful at a time, and simmer for a minute till wilted.
Cool slightly, then blitz in a blender, until very smooth. Add mint and blitz again.
Pass soup through a sieve, pushing down hard on any fibrous bits left in sieve to extract as much soup as possible.
In a cup, gradually dilute yogurt with spoonfuls of soup until it's smooth and pourable. Stir yogurt into the soup. Season with salt, pepper and sugar to taste.
Chill.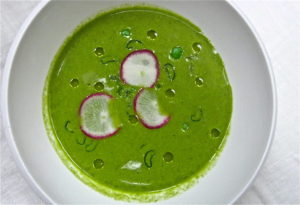 Serve cold in bowls or cups, floating a few peas on top; dot with olive oil, and slivers of mint and scallion/onion greens. If you like, add a splash of color with paper-thin rounds of radish, or a peppery nasturtium in each bowl.
For 3; 4 if served in small cups. Easily doubled (blend in batches) if you have loads of lettuce.