Tomato Bread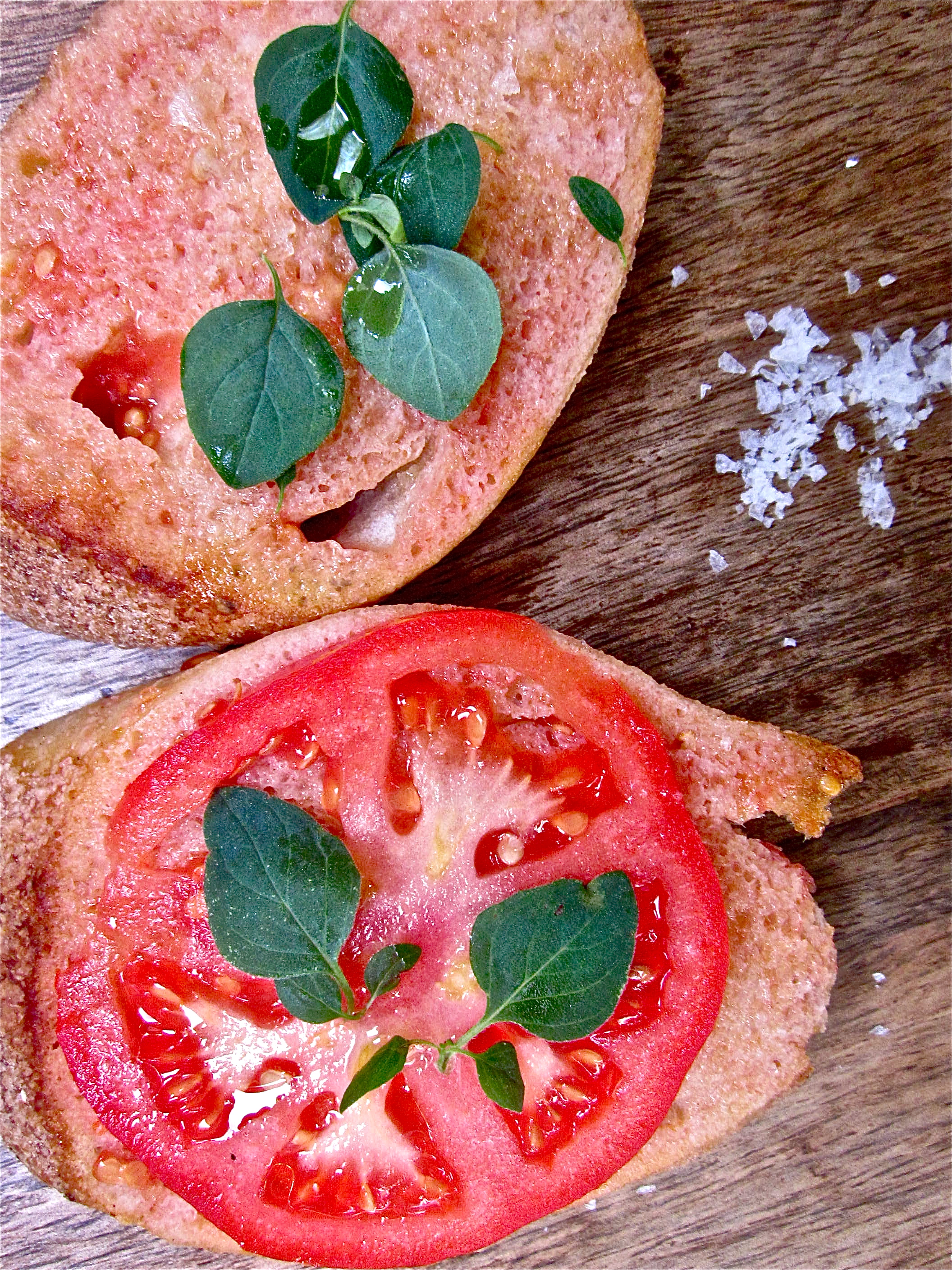 Really nice ripe tomatoes are starting to roll into the market.  So for this week's sandwich, we're smooshing tomatoes onto bread for Pan con Tomate. In Spain, Pan con Tomate is eaten as is, or topped with paper-thin slices of dry-cured ham, or cheese. Here's a market version, tweaked up with fresh herbs, from our early days, before our recipes went online. We've given it a refresh!
Tomato Bread
Per person:
2 slices baguette, or other good sturdy bread

1/2 clove fat juicy garlic

1/2 very ripe red medium-size tomato (halved horizontally)

fruity olive oil

large-grained or flakey sea salt

fresh thyme or oregano leaves, or small basil-top leaves

few drops of sherry or balsamic vinegar (optional)
A good use for slightly stale bread, last night's supper left-overs, perhaps. Cut baguette into slanting slices. Lightly toast or grill bread, not to color it, but to dry and toughen the surfaces so you can use them as a rasp.  Quickly rub cut surface of the garlic over top of each bread slice — for deeper garlic flavor, rub vigorously until garlic is down to a stub. Next rub the cut surface of the tomato over the bread, mashing in the juicy flesh, until only tomato skin remains in your hand (discard skin.) Sprinkle tomato-infused bread with olive oil. Finish with salt and a few aromatic herb leaves.
Variation: before smashing tomato onto bread, cut off a thin tomato slice. Top tomato-infused bread with the reserved tomato slice before finishing with salt, herb leaves, an extra trickle of olive oil, and a few drops of vinegar, if you like
.