What to expect at the June 16 market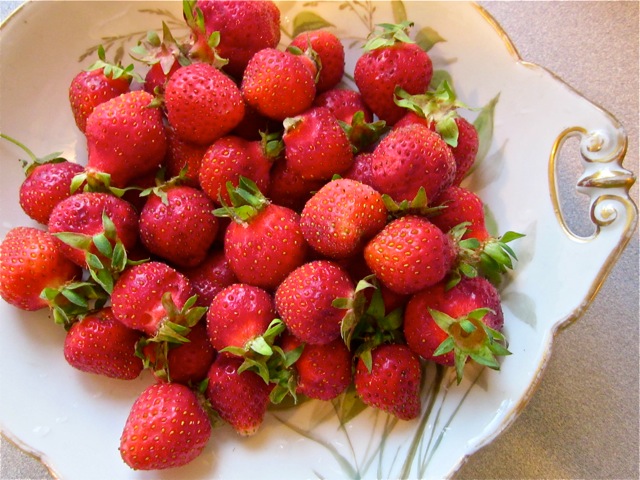 Strawberries made their first appearance at last Thursday's market. And disappeared fast. A li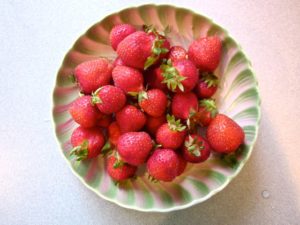 ne quickly formed at the table for Pariah Dog Farm, which grows strawberries in Teaticket. "These are for eating today," explained Jenny Christian, "and these" – motioning towards the berries waiting in the back of her truck – "will keep for a couple of days." All the strawberries looked perfect. "I've been making jam with those that weren't quite perfect," said Jenny, "and now my whole house smells of strawberries." You'll find more strawberries, from more farms, at this Thursday's market but, to avoid disappointment, come early.
Are you ready for…. iceberg lettuce? Carrie Richter at Peachtree Circle Farm thinks it's time for a berg comeback. Her iceberg, though, is a far cry from the spongy soccer-balls many of us associate with the breed. Crisp, light, pale green with a silvery sheen, her iceberg is a nice way to add crunch to your lunch, perfect for sandwiches or a wedge salad (try grilling a wedge, too.)
Here's what you might expect this Thursday:
Strawberries and rhubarb.
Asparagus, spinach, chard, kale, tatsoi, arugula, pea-greens, all kinds of lettuces, including local iceberg!
Beautiful oyster and lions mane mushrooms
Radishes, beets, carrots, onions, fresh young garlic, curly garlic scapes and cilantro.
Early greenhouse zucchini and cucumbers — and possibly early peas.
Coinciding with market hours–fresh local fish from Capt. Willy Hatch's Machaca Charters, offered dockside at Falmouth Harbor.  Last Thursday's windy conditions put the kybosh on fishing, but please check at our Market Manager's table for this week's catch.)
Farm eggs and Massachusetts cheeses: Long Lane Farm's goat cheese made fresh that morning, Great Hill Blue, Hannahbells, and Cloumage. Doughnuts, jams and jellies, honey, Monomoit Wild sea-salt.
Vegetable starts and herbs for backyard growers, including amazing deck-corn from Jenny's Edibles & Blooms, mixed lettuce plugs from Allen Farm, and exotic tomatoes (black krim, green tiger) from Tina's Terrific Plants, who will also bring a colorful medley of nasturtiums (nasturtium flowers and leaves are edible, too.) Cut flowers, including Peachtree Circle Farm's breath-taking peonies!
Coffee beans and beverages, juices, wine from Coastal Winery.
Locally made soap and dog treats for your four-footed companions.
Plus: Self-service community composting for those who know the drill.